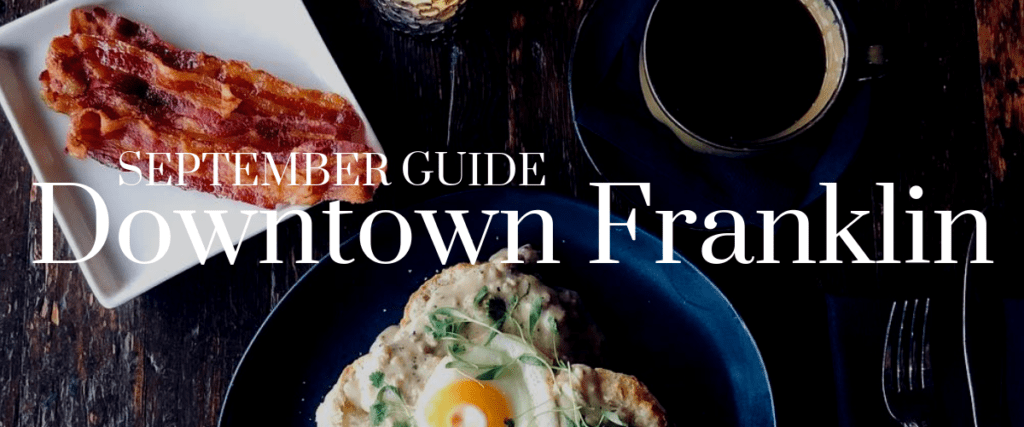 A community is only as strong as its core.
So says Main Street America, the national organization that gives the Downtown Franklin Association its framework. And if historic downtown Franklin is any indication, the community of Franklin is strong and getting stronger.
Our downtown has been the Williamson County seat for more than 200 years, a gathering place for remembrance, protest and celebration. Even as Franklin has grown over the past few decades into a vibrant city of nearly 80,000 people, its downtown has been preserved and has thrived thanks in part to some dedicated building and business owners.
One type of business in particular – restaurants – has always served both the practical and pleasurable needs of our county. The eateries located in our downtown provide a good meal when you're hungry, but they provide other things too.
Each restaurant downtown employs dozens of people. Many of these businesses contribute to our community by donating food to various events. They are tourist attractions of a sort, drawing in visitors who want to taste a bit of local food. They also serve as gathering places for people of all ages who want to sit down with others and take in part of Franklin's particular charm.
So next time you head to downtown Franklin, be sure to stop in one of the following businesses to eat, drink and be very merry.
The Frothy Monkey 125 5th Avenue South
Starbucks 438 Main Street
Sweet CeCe's 500 West Main
Gray's On Main 332 Main Street
O Be Joyful 328 Main Street
Juice Bar/Franklin Cafe 232 5th Avenue North
Kilwins 405 Main Street
Tazikis 428 Main Street
McCreary's Irish Pub 414 Main Street
Puckett's 120 4th Avenue South
Merridees 110 4th Avenue South
Pieology 346 Main Street
Red Pony 408 Main St
Cork & Cow 108 Main Street
55 South 403 Main Street
Mellow Mushroom 317 Main Street
Ruby Sunshine 231 Public Square
Biscuit Love 132 3rd Avenue South
Franklin Mercantile 100 4th Avenue North
Baskin Robbins 214 East Main Street
Puckett's Boat House 94 East Main Street
JJ's Wine Bar 206 East Main Street
The Coffee House at 2nd and Bridge 144 2nd Avenue North
The Grilled Cheeserie 334 Main Street
Coming Soon in The Harpeth Hotel 130 2nd Avenue North:
1799 Kitchen and Cocktails
McGavock's Coffee and Provisions
Franklin Bakehouse