Puckett's Boat House is adding some French Quarter flavor to downtown Franklin on New Year's Eve, ringing in 2013 with two live shows and a special celebratory menu full of Gulf Coast flavor.
The Southern seafood-focused eatery will host Roux du Bayou, a high-energy Cajun band that entertains with authentic zydeco, Mardi Gras and swamp pop music—with some classic rock n' roll and R&B thrown in for good measure. The group has been regaling the region with its Creole music for 13 years, and promises to bring a Bourbon Street feel to the Boat House.
In addition to the authentic bayou tunes, the Boat House has created an all-you-can-eat buffet, including steaming plates of Southern seafood, crab legs and Puckett's signature side items. The restaurant's fresh Apalachicola oysters will also be served, half-off with the New Year's Eve ticket.
Roux du Bayou will play from 8 p.m. to 9:30 p.m. (THIS SET SOLD OUT), and from 10:30 p.m. to midnight (TABLES AVAILABLE). Call 615-790-2309 to reserve your spot. Learn more about the Boat House here or on its Facebook page.
Event Pricing
Tickets for each set are $40 for adults and $20 for children 13 and under.
The ticket gives you access to the show, the buffet, party favors and a midnight champagne toast.
Kimbro's Pickin' Parlor on S. Margin Street will take a different approach to ringin' in the New Year! This go 'round, they're inviting their Deconstructed songwriter's crew to entertain the crowd until the ball drops at midnight. Owner Will Jordan has promised a special NYE menu, "jammin'" in each room, cornhole tournaments, drinking jenga, s'mores around the fire pit and more. Silas Lunsford will count down to 2013, and PJ Smith will host the songwriters.
Event Pricing
There is no cover, and Kimbro's will provide a free champagne toast. Call (615) 599-2946 for more details
The Franklin Theatre will ring-out the old year and "swing-in" the new with a rare Middle Tennessee appearance by the one-and-only Tommy Dorsey Orchestra. The theater opened its doors to the public in 1937 on Franklin's Historic Main Street. To honor the era that first welcomed the theatre, the evening will promise 1930's swank with a 21st-century flare, featuring two performances by this legendary dance band.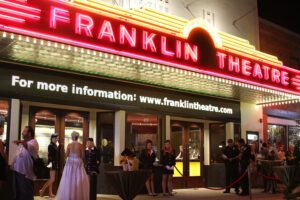 No group in Big Band history can get a crowd swinging like the Tommy Dorsey Orchestra! Known as the "Sentimental Gentleman of Swing", Tommy Dorsey was a master at creating superb dancing and listening arrangements. Tommy's work included collaborations with the likes of Paul Weston, Axel Stordahl and Sy Oliver, and showcased singers who could project them brilliantly; most notably the leader of the Rat Pack himself, Frank Sinatra.
SECOND SHOW SOLD OUT, TICKETS TO FIRST SHOW STILL AVAILABLE. Cabaret seating includes a celebratory bottle of champagne for each couple! Tickets may be purchased here.
Event Pricing
Balcony & Lounge Admission – $65
Cabaret Admission – $75
Classic Admission – $60

Franklin Mercantile Deli on Fourth Avenue North will host Jamie Schuer on New Year's Eve 2012! Join the eatery, just off Main Street, for what promises to be a spectacular dinner and a show.
The menu: Guests will enjoy a choice of tilapia or red pepper chicken, alongside honey green beans, garlic potatoes and the restaurant's house salad with fresh basil dressing. Call 615 790-9730 to RSVP.
Event Pricing
The $50 ticket includes a glass of wine and dessert, and half-off bottles of wine. Dinner begins at 7 p.m. and the evening lasts 'til midnight.

McConnell House (UPDATE) will open its doors at 9 p.m., and the party will last 'til 1 a.m.
The historic venue will host a live swing band to ring in the New Year. Formal attire not needed, but welcome!
Event Pricing
No cover. $25 entrance free gets you all-you-can-drink house beer, wine and appetizers.
Red Pony, the sophisticated restaurant on downtown's Main Street, is offering a five-course dinner to celebrate the upcoming year.
Guests can expect menu offerings the likes of seared ahi tuna, lobster bisque, stuffed and smoked prime rib, crème brulee and more! To see the full menu, click here.
Event Pricing
$80 per person. Reservations can be made here.


The Buganut Pig on Columba Avenue will produce another fun New Year's Eve party, with fan-favorite Groove Addiction! Don't miss the Pig's energetic pub atmosphere and live performance. Call 615-794-4777 to make reservations.
Event Pricing
$20 per person / includes the show, party favors plus a midnight champagne toast
$10 per person / at the door, includes the show

(SOLD OUT) Puckett's Gro. & Restaurant is hosting another New Year's Eve party, this year with the South Street Players! They've put together a special NYE menu that includes the likes of braised short ribs, crab-stuffed flounder roulade, eggplant
parmesan, Whisper Creek Tennessee Whiskey Cheesecake and more.
Do you remember the first time you heard that song… and who you were with? South Street is synonymous with music in Nashville and the word is out: each musician in this band is definitely a Player. Together, their versatility is instantly apparent when listening to them blaze through a set list spanning five decades of hits.
Book online or call (615) 794-5527 for show and dinner reservations. SOLD OUT
Event Pricing
First show: Dinner served at 6 p.m., show begins at 6:45 p.m. / $40
Second show: Dinner served at 9 p.m., show begins at 10:15 p.m. / $50 includes champagne toast