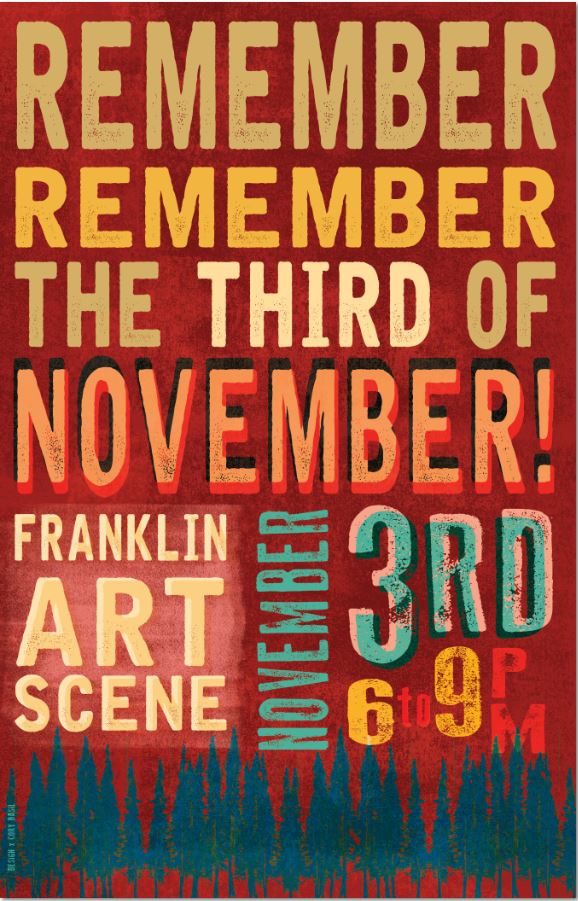 Fall has finally arrived, and Franklin Art Scene returns on Friday, Nov. 3 from 6-9 p.m. for an evening of crisp weather and more than 30 sites hosting a variety of artists for this month's art crawl. Franklin Art Scene is hosted by the Downtown Franklin Association on the first Friday of every month as a "tour of the arts."
Featured artists in the November Art Scene include:
Academy Park Enrichment and Performing Arts, located at 120 Everbright Ave., will host artist Don Jackson, a photographer who photographs small towns and life without the congestion and noise of the city.
Bagbey House, located at 134 Fourth Ave. N., will feature Kris Bagbey as Dr. Christmas, doing demonstrations prior to the Christmas open house on Nov.1.
Early's Honey Stand, located at 209 East Main St., will host Jeanne Drone, a portrait, wedding, real estate and fine art photographer.
Franklin First United Methodist, located at 148 Fifth Ave. S., will feature the paintings of Barb Dwyer and Walnut Grove Elementary Students.
Gallery 202, located at202 Second Ave. S., will feature Susan Blair Truex, an oil painter with a central theme of women, children, animals and their space in our society.
Hope Church, located at 137 4th Ave. S., will host Summer Dobbins and her display of abstract resin art.
Imaginebox Emporium, located at 311 N. Margin St., will showcase the original work of Cory Basil, an artist poet, author and actor.
Moyer Financial, located at 400 Main St., will host Lori Loesch whose art is God-inspired abstract, a sermon on canvas.
Parks Realty, located at 415 Main St., will feature works Eric Droke, an artist, born and raised in Tennessee.
The Cellar, located at 344 Main St., will feature artist Kevin Wimpy, owner of Kevin Wimpy Portraits & Gardens, a leading portrait photography studio offering compelling imagery, indoor and outdoor garden vignettes, custom designed cards, albums and frames.
Visitors Center, located at 400 Main St., will host Nathaniel Mather, an accomplished illustrator and fine arts painter.
Wellspring Financial, located at 517 Church St., will feature artist Jennifer Stalvey, an eclectic fine art and commercial photographer working in Nashville.
Williamson County Archives, located at 611 W. Main St., will present photography by Debbie Smartt, who creates digital art from photos and often highlights the sites of Downtown Franklin.
The Downtown Franklin Association invites lovers of the arts to stop by all participating locations during the evening's crawl. The Art Scene trolley is also available for free rides throughout the crawl, sponsored by Genesis of Cool Springs.
For more information on the Franklin Art Scene, a full list of artists and a map of all featured locations, visit https://downtownfranklintn.com/the-franklin-art-scene/