Claude Carmichael, Founder and President of Carmichael Creel Investments, is celebrating 30 remarkable years of providing full-service portfolio management for his clientele. With their offices located in the heart of historic downtown Franklin, let's take a look back at how Claude grew his firm from the ground up.
Claude grew up in Norfolk, Virginia, and graduated magna cum laude from Duke University. After college, he moved to New York City to start a job on Wall Street while pursuing his love for music recording and production. Throughout the 1980s, Claude worked his way up the corporate ladder at Oppenheimer & Co, Inc., an industry-leading stock brokerage and investment bank.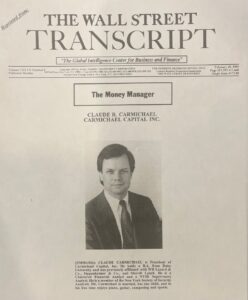 At that time, technology was rapidly evolving, so it had become easier to launch an investment advisory business. On May 19, 1993, Claude established Carmichael Capital, Inc., and began working in New York as an independent investment advisor. Some of his loyal clients from his previous firms followed him to his new company. 
After spending the next six years in New York City, Claude, his wife Dorie, and their two children, decided to move to Tennessee. Still heavily engrossed with his passion for music production, he wanted to move somewhere catering to his musical interests. Claude was excited to return to the south and move to the greater Nashville area.  
 Art and Heather Creel moved to Franklin in 1995.  Having sung with Heather's godfather back in his church choir while living in New York, Claude introduced himself to the Creels upon arriving in Franklin in 1999.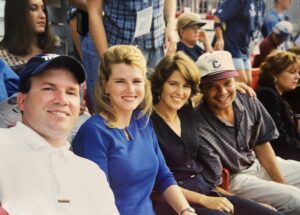 The Carmichael and Creel families quickly became friends as they were their first acquaintances in the area. They both had young children, and they would share Thanksgiving meals together as their extended families did not live close.  Early in their friendship, Claude and Art discovered their shared affinity for music. The two began playing music together at parties. When the Creels were transferred to Boston in 2006, Art continued his love of muisc by singing in a band.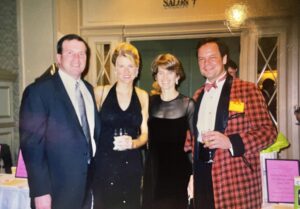 Art has worked in the finance industry since the 1980s, starting as an advisor and progressing into senior management for a large financial services company.  After the Creels moved back to Franklin in 2015, Art frequently visited Claude in his office on Main Street in downtown Franklin. Eventually, Claude talked Art into joining forces in January 2020.  Art left the corporate world to join his good friend and formed Carmichael Creel Investments.  
As longtime friends and counterparts, Claude Carmichael and Art Creel bring incredible synergy when working together in finance. Not only that, they have a comical collective mind that brings laughter to their office and their clients. They continue to enjoy making music for friends and can often be heard playing or singing in the office.  Because of his mastery in finance and music, Art describes his business partner and friend Claude as "part Warren Buffett and part Jimmy Buffett."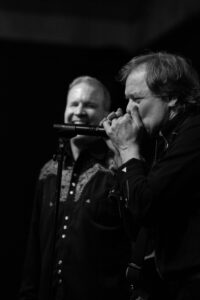 Carmichael Creel Investments is a full-service investment advisory and asset management firm helping individuals and families achieve their financial goals. They currently work with clients here in middle Tennessee and in many other states across America bringing their experience and values "from Wall Street to Main Street." More information can be found on their website at CarmichaelCreel.com.