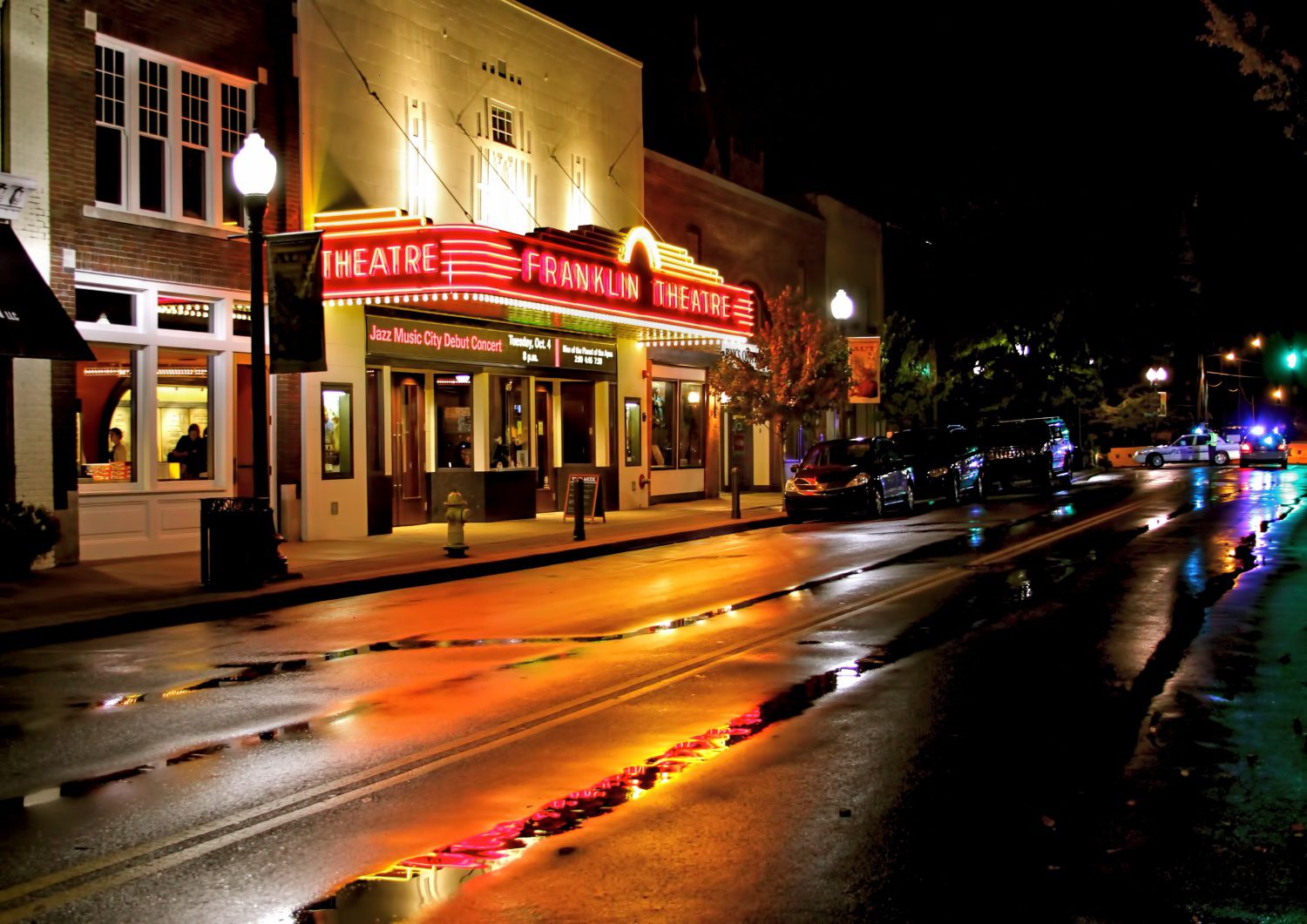 Welcome 2017 in style right here in Downtown Franklin — you can never go wrong with a party on #AmericasFavoriteMainStreet! From live music to champagne toasts, there's plenty of parties, good eats and celebration to go around. DFA members hosting bashes and offering specials include:
Baskin Robbins: Start 2017 off on a sweet note with $1.31 scoops all day on New Year's Eve! They'll also be open from 12 to 9 p.m. on New Year's Day.
Cork & Cow: The posh restaurant on Fourth Avenue is offering a chef-curated four-course meal to ring in the new year. The gourmet offerings range from almond brittle scallops to filet mignon and chocolate cake! The cost is $90 per person. Reservations can be made by calling 615-538-6021. The menu can be found online here.
The Franklin Theatre: Unfortunately, tickets for Phil Vassar's NYE performance are already sold out, but the theatre will be open on New Year's Day showing family favorites Happy Feet and It's A Wonderful Life! Tickets can be purchased here.
Frothy Monkey: This popular coffee spot on 5th Ave. will be open on New Year's Day, offering specials geared towards superstitiously lucky food items.
GRAYS on Main: Starting at 6 p.m., GRAYS will be hosting an early four-course dinner with live music by Kyshona Armstrong. Tickets are sold out for the late four-course dinner and show, featuring Wynona Judd and Big Noise Band, however tickets are still available for the early dinner for $65 per person. Call the restaurant to make a reservation at 615- 435-3603.
Kimbro's Pickin' Parlor: 2017 is the Year of the Rooster, and Kimbro's is partying until they hear it crow with a four-course meal and an incredible live music lineup. There will be performances by Von Strantz, Coin Elmore & The Danville Train and Anthony Adams & The Nite Owls. The $40 a person and $70 a couple tickets include a gourmet meal, a champagne toast at midnight, a live view of the ball drop on the big screen and party favors for all. Call (615) 599-2946 for more details, or check out their Facebook page here.
The Pink Gala: Downtown Franklin's biggest NYE party is back. The black-tie optional event at the Factory at Franklin promises great food, music, drinks, a champagne toast at midnight and dancing. Even better, all proceeds go toward fighting breast cancer. In addition to dinner by Catering and Events by Suzette, there will be beer, wine and signature cocktails, a wonderful silent auction, dancing to Burning Las Vegas, and a Champagne toast at midnight. Doors open at 7:30 p.m. Tickets, $165 per person, can also be purchased at Kelly Spalding Designs or online here.
Puckett's Boat House: This Downtown Franklin favorite will feature an acoustic performance by Jon Mullins with Brentwood Down from 7:30 to 9 p.m., serving from the regular menu with dinner specials. There's no cover for the first show, but reservations are recommended. Then, from 10 p.m. until midnight, Jon Mullins and Brentwood Down take the stage again, as 2017 makes its debut. Tickets are $25 a person for the second show and include a champagne toast at midnight and party favors. There will be a limited appetizer menu and full drink menu. Reservations can be made by phone only at 615-790-2309
Puckett's Grocery: Located right off Main St., you'll find the perfect combination of good Southern eats, up-beat live music and friendly fellowship. Puckett's Gro. will offer two times for New Year's Eve partygoers to enjoy dinner and a show by Beatles cover band The Wannabeatles. $60 per person for the 6 p.m. seating and $75 per person for the 9 p.m. includes a three-course meal comprised of the guest's choice of one appetizer, one of four entrees and espresso cake for dessert. A champagne toast at midnight is also included in the cost for the 9 p.m. show. Reservations accepted in the restaurant or by phone at 615- 794-5527.
The Red Pony: The sophisticated Southern eatery is offering a four-course dinner to celebrate 2017! The prix-fixe menu includes delicious choices, including sea bass, TN New York strip and chocolate flan. The menu can be found online here. The cost is $85 per person. Reservations are required and available by phone at 615-595-7669 or online.
Saffire Restaurant & Bar: Head over to the Factory at Franklin for a three-course, prix-fixe menu — specially created by Executive Chef Matt Farley and Chef de Cuisine Devin Malcolm— with choices including decadent dishes such as, wood-fired filet mignon, cranberry apple stuffed quails and even a milk chocolate crunch and dark chocolate mousse bar! To see the full menu, go here. The price is $65 per person, and reservations can be made by calling 615-599-4995 or visiting www.saffirerestaurant.com/reservations/.
Jondie and Mimi & Dottie: Attending one of these fun NYE celebrations? Don't forget about your outfit! Both these stylish shops will be offering a free gift with $100 or more purchase on Dec. 30 and 31!
Happy New Year, Franklin!
Photo via Debbie Smartt