Dining on Main
One of the best things about visiting historic downtown Franklin is the variety of places to eat! If you've been here already, you know that walking around our Main Street district to see the historic sites builds an appetite. Fortunately, downtown Franklin offers plenty of yummy options to satisfy you.
Beverage-based with a bonus!
So many of the cafes in downtown Franklin at first seem to be drink-oriented, whether that drink be coffee, wine or healthy juice options. The surprise is that it turns out those places you think might be "just" a coffee shop or wine bar have a delicious menu too!
The Coffee House at Second and Bridge (144 2nd Ave North), located in a circa 1900 house, does serve coffee options inside or on their patio. But don't miss the delicious crepes, with savory and sweet options, including one with Nutella and strawberries.
Juice Bar (232 5th Ave North) of course offers healthy and delicious juices and smoothies, but with the addition of the Franklin Café inside, they offer omelets and sandwiches, among other choices, AND Lavazza coffee.
On the ground floor of the Harpeth Hotel, McGavock's Coffee Bar & Provisions (130 2nd Ave North) is an amazing spot for morning coffee, but when lunch rolls around be sure to try their gourmet salads and artisanal sandwiches. And if you've got a taste for original combinations made from scratch, Frothy Monkey's (125 5th Ave South) got you covered breakfast through dinner, along with craft beer and wine. The cheesy grits bowl, made with feta, is the way to go!
When you need a cold one straight from the tap, Hop House Tennessee Taps (117 5th Ave North) has a huge selection of local and regional brews. But don't think you'll be stuck with dry pretzels to munch on. Try the tapas, or share a charcuterie board with friends.
Starbucks (438 Main St) watches over Five Points in the circa 1923 White Building and is always a popular meeting spot. But if you want to wrap up the day sipping Chardonnay on the porch of a Queen Anne house, JJ's Wine Bar (206 E. Main) is your spot. Overlooking the east end of Main Street, their menu has delicious handhelds, flatbreads and appetizers like truffled cashews and stuffed dates you can share.
Top of the Morning!
Whether you're starting your day early or taking a more leisurely approach to the morning, downtown Franklin is the perfect place for breakfast and brunch. Franklin Mercantile (100 4th Ave North) comes out swinging with sweet potato pancakes and specialty omelets. Ruby Sunshine (231 Public Square) on the public square is open only for breakfast and lunch, but their eggs Benedict on biscuits are unforgettable, especially the eggs cochon, with apple-braised pork debris served over a buttermilk biscuit, topped with two poached eggs and finished with hollandaise.
Though they started out as a food truck, Biscuit Love (132 3rd Ave South) has a beautiful location in the historic 1910 Corn House. They're famous for their bonuts – fried biscuit dough tossed in sugar and topped with lemon mascarpone. Puckett's Grocery (120 4th Ave South) is a downtown breakfast mainstay, serving up savory breakfast skillets, pancake options and lots of ways to eat fried chicken for breakfast.
But the unofficial queen of breakfast in downtown Franklin is Merridee's Breadbasket (110 4th Ave South). While they are open for lunch and dinner, since 1984, Merridee's has been baking homemade pastries, from biscuits to biscotti, and serving breakfast mainstays such as eggs, French toast, breakfast sandwiches and burritos.
Around the Culinary World in Historic Franklin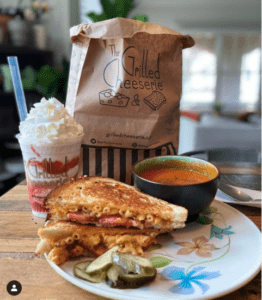 For a taste of authentic Irish specialties, McCreary's Irish Pub (414 Main St) for 18 years has drawn those looking for bangers and mash, cottage pies and, of course, fish and chips. Just down the block, Tazikis (428 Main St) takes you on a taste tour of the Mediterranean coast, with gyros, fluffy basmati rice and the best lemon chicken soup you've ever tasted.
Around the corner, on 5th Avenue, Zolo's (119 5th Ave North) has cornered the Italian market downtown. Since 2007, they've set the tone with the crispy artichoke appetizer and a standing a la carte menu that includes creamy garlic butter Tuscan salmon and pasta variations.
If you just need a slice, you can't go wrong at either Mellow Mushroom (317 Main St) or Pieology (346 Main St). The friendly staff at T-OP Poke Bowls (111 5th Ave. North) can help you choose from their fresh meat and veggies to make the perfect bowl of your choice, or visit the other half of the restaurant for ice cream and bubble tea! Last but not least, The Grilled Cheeserie (334 Main St) is one of the newest kids on the block, is another restaurant that started as a mega popular food truck. As the name suggests, they specialize in melty cheesy goodness on your choice of bread. To top it off, be sure to order a homemade milk shake or ice cream float, like the Peanut Butter Cup made with chocolate chip ice cream and salted caramel.
Southern American Classics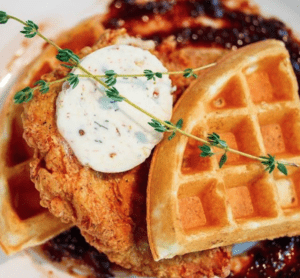 When in the South, dine as the southerners do! Luckily that isn't difficult in historic downtown Franklin. Grays on Main (332 Main St) features a seasonal menu that includes shrimp and grits, fried catfish and even a gourmet take on the fried bologna sandwich. The building itself, once a historic pharmacy, is a draw, and their restored neon sign has become a landmark.
At Puckett's Grocery (120 4th Ave South) the goodness continues at dinner, where their meat-and-three talents shine. Don't miss their version of the hot chicken sandwich or the Redneck Burrito, with pulled pork, beans and slaw.
On the other end of downtown, Americana Taphouse (94 E. Main) is the retooled "sister" restaurant of Puckett's, with a patio next to the Harpeth River and 24 beers on tap. Their ham cheddar biscuit appetizer only hints at the goodness to follow, with chicken and waffles AND pot roast and grits on the menu.
If you want a culinary journey down I-55 from Memphis to New Orleans, you'll love the menu at 55 South (403 Main St), where you can choose from fried green tomatoes, seafood gumbo and brisket tacos. For a true Franklin experience, including live music, The Legendary Kimbro's Pickin Parlor (214 S. Margin) is a must-stop. Among lots of good choices, their burgers can't be beat, especially J's Burger with caramelized onions and jerk sauce.
Mark the Occasion in Downtown Franklin
When you want to celebrate or just need a dressy night out, nothing beats a stroll around Franklin's public square followed by an upscale meal at our local favorites. Cork & Cow (403 Main St) has won Wine Spectator's Award of Excellence, with more than 100 bottles of wine. But their steaks helped make their mark, from a petite filet to a tomahawk.
Another inspiration of Chef Jason McConnell, who started 55 South and Cork and Cow, Red Pony Restaurant (408 Main St) opened in 2006 as the place for sophisticated Southern fare. The menu changes about six times a year to take advantage of seasonal specialties.
A new and delicious addition to downtown Franklin's dining landscape, 1799 (130 2nd Ave) is the flagship restaurant inside the Harpeth Hotel. They specialize in modern interpretations of classic dishes, such as grilled pork loin and Cornish hen, and they also have a rotating selection of steaks and chops.
Treat Yourself!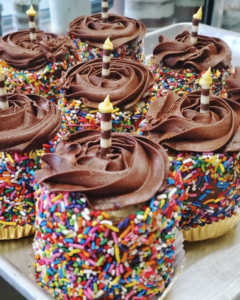 Sometimes you just want an ice cream cone while you're strolling along Main Street. Kilwin's and Baskin-Robbins have you covered on both ends of downtown, while Sweet Ce-Ce's is the spot if you want to top your frozen yogurt with Fruity Pebbles.
If baked goods are your weakness, you'll love Triple Crown Bakery (735 Columbia Ave). Owner Alena Vaughn graduated from Le Cordon Bleu in San Francisco, and ran a bakery business from her home while she moved around the country with her husband's career in the Marines. Now rooted in Franklin, she makes pastries, cakes and cookies and soon will move her location to 118 4th Avenue North.
You can't miss the chrome Airstream trailer downtown where Tiny Little Donuts (328 5th Ave) really does serve tiny little donuts! In September they'll bring back pumpkin pie spice donuts, and they've added Nespresso to their menu. Soon they'll open a brick-and-mortar location in Nashville.