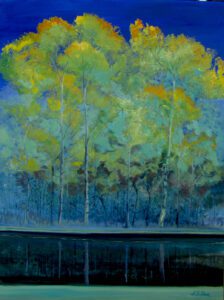 Participants taking the Franklin Art Scene route on May 2 will enjoy sunny and 65-degree weather.  Each month, fresh artists exhibit originals works of art at various locations throughout downtown Franklin's historic core.
In conjunction with the monthly gathering coordinated by the Downtown Franklin Association (DFA), around 30 sites will host local artists on their properties, 6-9 p.m. Many of the locations offer refreshments, drink or live music.
The art crawl is free, but a $5 wristband includes unlimited stops on the trolleys that circulate throughout the circuit. For more information about participants, go to www.franklinartscene.com.
To see this month's featured artists, visit the non-profit's Facebook page at www.facebook.com/FranklinArtScene.com.
A few highlights include:
The Bagbey House is hosting artist Jack Zellner, grandson of renowned Dutch painter John Kitslaar. Zellner earned much of his artistic insight and influence from his grandfather, who studied at the Royal School of Fine and Applied Art in The Netherlands. As a landscape painter, Zellner emphasizes mood, light, warmth and texture to allow viewers to draw on memories of similar spaces. Major exhibits in Montreal, Canada; Milan, Italy; and London, England have highlighted his professional work.The Bagbey House will also feature work by Linda Graves, an abstract and realism painter who pulls strong composition and visual texture to create art. Graves also uses her interior architecture background to create structure and stories within each piece.
Town's End General Store on W. Main Street is exhibiting work by Glen Taylor of "When Heat Meets Rust." Taylor salvages pieces of iron and other saved items to rework into creative pieces of fun and meaningful art.
The Heirloom Shop on Main Street is display the art of Dickson native Mary Walker, whose acrylic pieces are overlaid with dyed glass.
Boutique MMM on the Public Square is hosting Attorney Chuck Blackard, a primarily acrylic artist that is inspired daily by life surroundings. Born in Texas but raised in Florida, Alabama and Mississippi, his family's background has helped shaped Chuck's perspective and artistic style.