The Franklin Antiques Mall is gearing up to celebrate its 43rd Anniversary on July 5, 2022.  Established by Joan & Archie Glenn in 1979, the antique mall is now owned and operated by the founders' daughter Amanda Pitts, who helped establish the mall and run it as well during her high school and college years. The original, hand-painted Franklin Antiques Mall sign can still be found hanging inside the mall.
In 1979, founders Joan & Archie Glenn were both retired, and Amanda's mom had a vision of starting an antique store. They had seen an antique mall in Nashville and thought it was a neat idea to bring to Franklin. They were out riding around and saw the historic Ice House building in poor shape. Joan thought it would make a great antique mall. Now, the Franklin Antiques Mall is one of the oldest antique malls in the surrounding area, and one of the oldest businesses in Franklin.
"There was nothing here," Amanda Pitts shares. "I helped them start out while I was in school and worked here part-time."
Amanda took the mall over in 1996, after her father passed in 1991 and her mother in 1996. Her brother Shawn Glenn ran it with her the first year before Amanda took over full time.
Amanda's daughter, Morgan Pitts, started helping around the antique mall as early as middle school through college, along with Amanda's niece, Jennifer Glenn Balestros.
"Being around people is my favorite part of running the mall. There are new faces all the time," shares Amanda Pitts. "I love seeing all the new stuff coming in and feeling connected and a part of something. I build a lot of the booths myself, and I enjoy going to market and shopping and decorating. I've been here since my teenage years, and it's a huge part of me."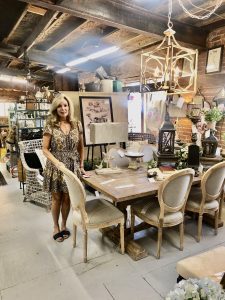 The historic building is 12,000 square feet with a surprise around every corner and several rooms to explore. Shoppers can find home décor, gifts, and vintage items, along with Japanese hand-painted kimonos.
"We've had a couple of ghost encounters, too," shares Amanda Pitts. "One time, about ten years ago, in the corner of one of the rooms it smelled like eye-burning smoke for three days. When it first started, we thought the place was on fire and called the fire department. They sent about twelve firefighters and walked all over the roof and everywhere looking for everything before the Chief came out here and looked for an hour. They smelled it but couldn't find anything. Suddenly, it went away as quickly as it came."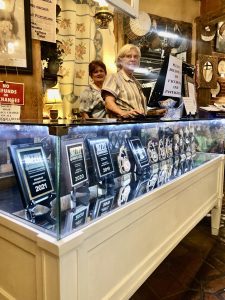 Several celebrities have visited the Franklin Antique Mall over the years, including Taylor Swift, Miley Cyrus, Dennis Quaid, Jonathan Jackson and Lisa Vultaggio, Marsha Blackburn, Cathy Lee Gifford, Pam Tillis, Mike Wolfe, Kenny Chesney, and Jennifer Horton.
Upon visiting the mall, guests can meet the friendly team members – Caroline Golden, Karrie Poole, Kristy McGirr, Gina Golden, and Patty Henton. "They've all been serving a while and bring friendly cheer to the friendly faces that visit," shares Amanda.
In honor of their anniversary, the Franklin Antique Mall will be running 20% OFF special sales during the month of July!  Visit them in person at 251 2nd Avenue South or shop online to reserve an order for pickup at https://thefranklinantiquemall.com/!