It's that time again! Join us in downtown Franklin on Friday, July 7, from 6-9 p.m. for July's Franklin Art Scene! This month's Art Scene is putting an emphasis on four-legged companions as a way of spotlighting BETTER CITIES FOR PETS™ during the free monthly art crawl on America's Favorite Main Street.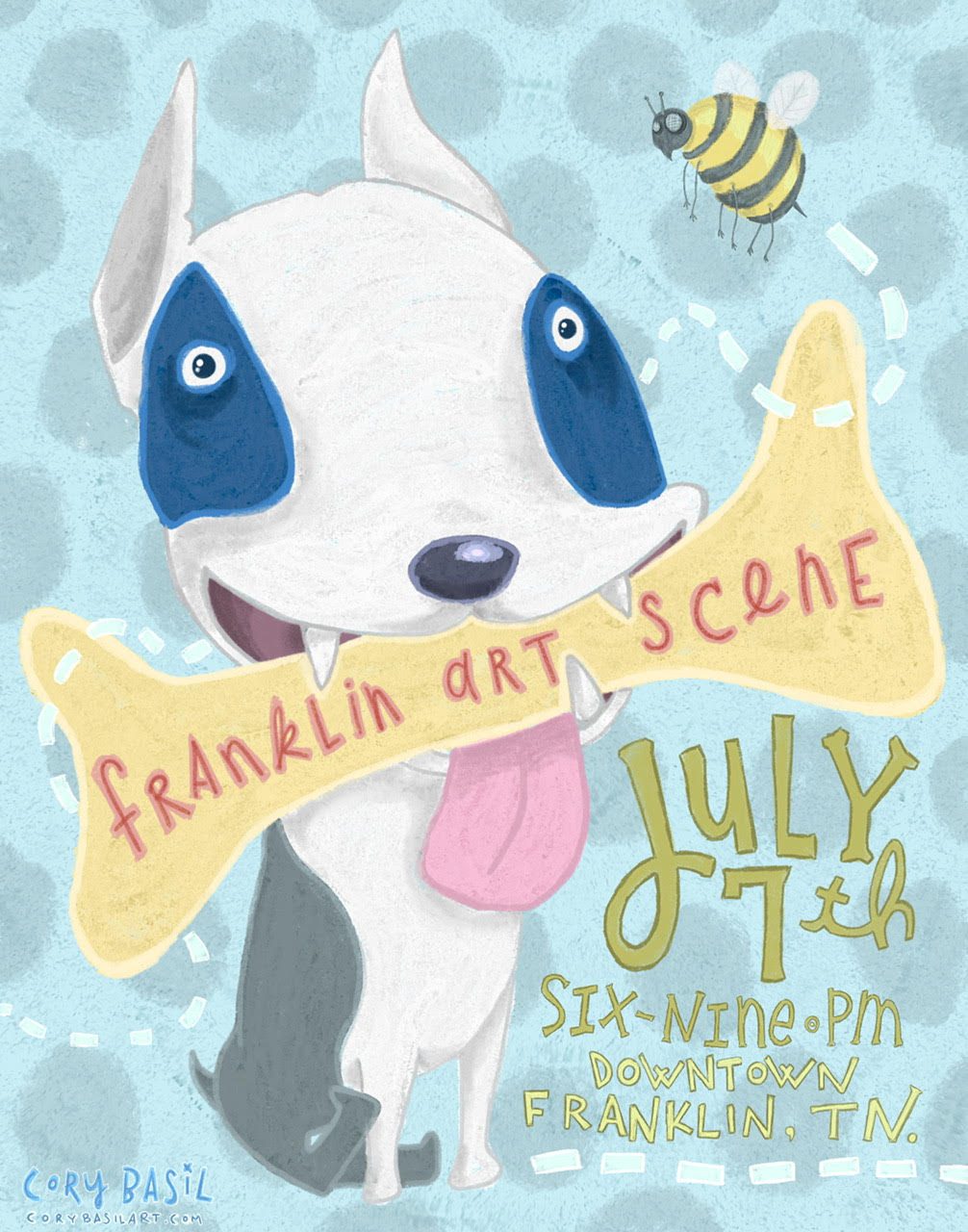 BETTER CITIES FOR PETS™, sponsored by Mars Petcare and the City of Franklin, was created to encourage more places for dogs and cats to live, visit and play! Several of the sites for this month's Art Scene will feature pet-themed art that will interest the whole family, including your furry friends!
As you stroll through the streets of Franklin's Historic Downtown District during the Art Scene, don't forget to hop on The Art Scene Trolley — sponsored by Genesis of Cool Springs — for a free ride to any of our crawl locations, including:
Bagbey House, at 134 4th Avenue N., is showcasing the work of local portrait and garden photographer Kevin Wimpy.
Boutique MMM, at 238 Public Square, will display the work of painter Emily Newman, who translates her perspective on natural beauty and her creative passion to canvas.
Gallery 202, at 2nd Avenue S., will feature Melvin Toledo, whose realist paintings are an expression of his own observations and respect for nature and of the beauty that can be found in everyday life.
Historic Franklin Presbyterian Church, at 435 Main Street, will host mother and daughter artists Lisa and Leah Boorse. At a very young age, Lisa desired to capture emotion and feeling and translate the experience into her drawings. Her daughter, Leah, credits her mother as being her biggest inspiration.
Hope Church, at 137 4th Avenue S., will host the work of Susan Napolitano who has been involved in the creative community for more than 25 years in Nashville and Franklin, as well as in New York City.
Imagine Box Emporium, at 311 N. Margin Street, is set to show original illustrations created by Cory Basil for his young reader novel The Perils of Fishboy.
Jack Yacoubian Jewelers, at 300 Public Square, will highlight mixed-media artist Randy L. Purcell. Since 2009, Purcell has been working on a series of encaustic paintings using a unique process of transferring ink from recycled magazine pages onto a thin layer of beeswax.
Landmark Bank, at 198 E. Main Street, is highlighting the photographs of Monte Arnold.
O'More College of Design, at 423 S. Margin Street is set to feature the work of Ad Maddox.
Parks Realty, at 415 Main Street, will feature Katie Neal, whose oil paintings are about color, materiality and the process that is painting.
Savory Spice, at 324 Main Street, will showcase the acrylic artwork of Lynn Harrison, who has enjoyed working with acrylics for about 8 years.
Shuff's Music & Piano Showroom, at 118 3rd Avenue N., is featuring the work of Bonnie Williams, a stained glass artist, whose studio, Green Onion Studio, is located in Nashville.
Taziki's, at 428 Main Street, is showing the work of Hannah Paschket, a recent graduate of Franklin High School and self-taught artist.
Twine Graphics, at 108 Century Ct, is highlighting the work Beverly Evans, a painter and Nashville native.
Vintage Jolie, at 430 Main Street, is featuring the works of both Sarah Menkel and Susan McVickers. Menkel can usually be found in her studio in Franklin while McVickers spends her time at her home studio in Nashville.
The Visitor Center, at 400 Main Street, will showcase Christopher Green, who is best known for his encaustic paintings and a colorful, intense and highly detailed style.
The Williamson County Archives, at 611 Main Street, will welcome Barbara Blanks Bullard, who has thought of herself as an artist since she first held a crayon. Her love of creating art has been the defining force in her life.
The Williamson County Enrichment Center, at 101 Everbright Avenue, will feature Amanda Harrison, a watercolor artist and a member of the Arts Council.
Artwork by Cory Basil