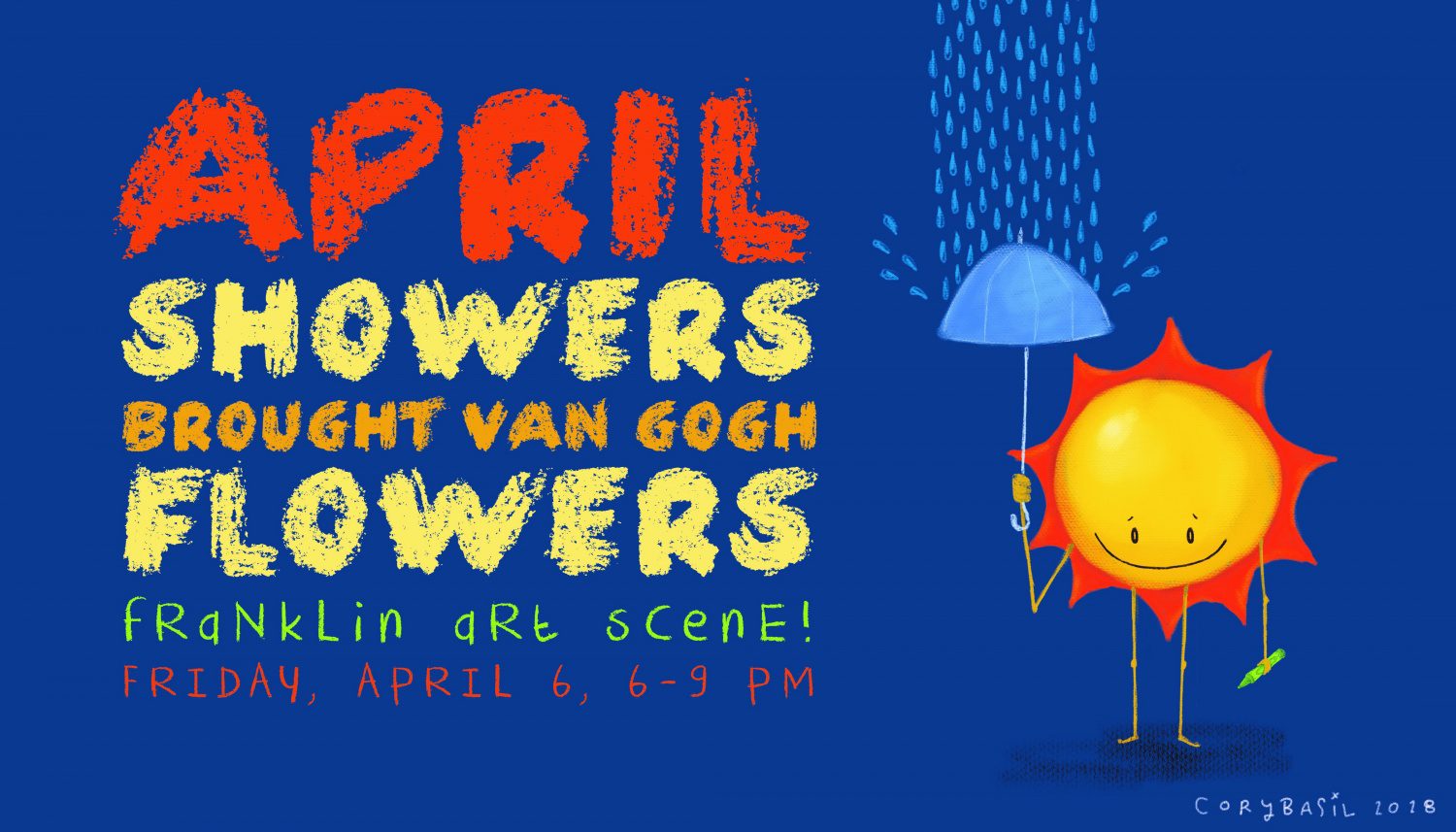 They say that April Showers bring May flowers, but either way, April will bring another installment of the monthly downtown art crawl on Friday, April 6. More than 20 sites will participate in the event, which is hosted by the Downtown Franklin Association as a "tour of the arts."
Featured artists in the April Art Scene include:
• Academy Park Enrichment and Performing Arts, located at 120 Everbright Ave., will feature the works of Mike Krupek, an artist whose style is drawing with free-flowing lines that capture memories of the old barns and churches that are quickly vanishing.
• Big East Fork Retreat Center for Sustainable Stewardship, located at 342 Main St., will host artist Kathy Tupper who has displayed her work in Middle Tennessee for nearly 50 years and also teaches art at Centennial Art Center in Nashville.
• Citizen, located at 430 Main St., will display the works of Jon Reddick, an up-and-coming artist specializing in oil on canvas paintings.
• Finnleys, located at 435 Main St., will host Hannah Pickering and her visual art work.
• Gallery 202, located at 202 Second Ave. S., will host a Spring show with ALL of the gallery's artists. Don't miss this special meet and greet extravaganza!
• Habit, located at 506 W. Main St., will feature Ashley Renouf, a painter whose artistic expression is often what she is feeling and thinking in the moment.
• Historic Franklin Presbyterian, located at 435 Main St., will host Shari Lacy who believes that art can stir emotions and cause the viewer to breathe a bit easier.
• Hope Church, located at 137 Fourth Ave S., will feature Joshua Patterson who is an Australian new/mixed media artist living in Nashville.
• Imaginebox Emporium, located at 311 N. Margin St., will showcase original illustrations created by Cory Basil and his novel "Perils of a Fishboy."
• O'More College of Design, located at 423 S. Margin St., will host John Partipilo who is an international award-winning photojournalist and fine art photographer.
• Outdoor Classic Structures, located at 203 Second Ave. S., will feature the works of mural and wildlife painter Ann Kimbro.
• The Registry, located at 347 Main St., will host the works of Morgan Ogilvie.
• Tin Cottage, located at 334 Main St., will showcase artist Laci Fowler who specializes in abstract paintings of florals and landscapes.
• Twine Graphics, located at 304 Public Square, will feature Meg Marano whose portraits create a connection that is often missing between people.
• Wellspring Financial, located at 517 Church St., will feature artist Pam Austin who followed her dream of painting after a long career in business.
• Winchester Antique Mall, located at 121 Second Ave. N., will host artist Leslie S C Cole whose intent is to prioritize love and respect and believing the truth of the light.
• Williamson County Archives, located at 611 W. Main St., will feature photographer Tennille Melcher.
The Downtown Franklin Association invites lovers of the arts to stop by all participating locations during the evening's crawl, and the Art Scene trolley is also available for free rides throughout the crawl, sponsored by Genesis of Cool Springs.
For more information on the Franklin Art Scene, a full list of artists and a map of all featured locations, visit https://downtownfranklintn.com/the-franklin-art-scene/.