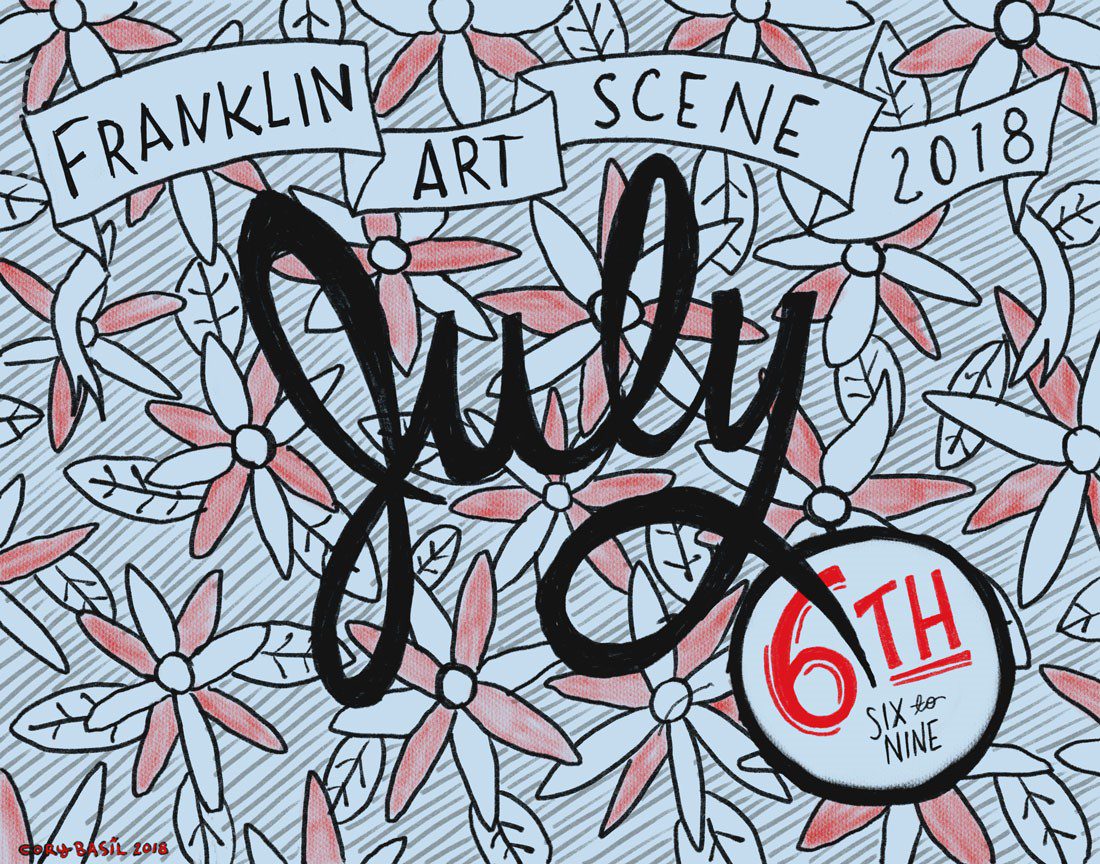 Franklin Art Scene returns on Friday, July 6 and will feature more than 20 sites in Historic Downtown Franklin, including a display of the winners of the City of Franklin photo contest at Visit Franklin Visitors Center. The photo contest launched in celebration of May's preservation month and invited photography enthusiasts to share their love of Franklin through personal images. The Franklin Art Scene is held on the first Friday of every month to highlight the local arts scene in Franklin.
Featured artists in the July Art Scene include:
Coffee House on 2nd and Bridge, located at 144 Second Ave. N., will feature Susan Charest, the artist behind Sonshine Art who creates whimsical drawings in wood canvases. Charest makes her own wood canvases from recycled pine, ship-lap or cedar.
Finnleys, located at 435 Main St., will host artist Sheila Smith who specializes in pet, personal and home portraits, along with hand-crafted acrylic paintings.
Franklin First United Methodist Church, located at 148 Fifth Ave. S., will feature artist Sharon Brown Christopher, an artist who views her photography as a spiritual practice.
Gallery 202, located at

202 2nd Ave. S.,

will feature work by Carol Evans.
Imaginebox Emporium, located at 311 N. Margin St., will showcase original illustrations created by Cory Basil and his novel "Perils of a Fishboy."
John M. Green Realtors, LLC, located at 118 Fourth Ave. N., recently joined the Art Scene family and will feature paintings by artist Shawn Shepherd.
Merridee's Breakbasket, located at

110 4th Ave. S.,

will feature work by artist Michelle Rideout.
Onyx & Alabaster, located at 134 Second Ave. N., will host Jennifer Gibbs, an artist who draws inspiration from nature, emotion and meditation.
Outdoor Classic Structures, located at 203 Second Ave. S., will feature the works Ashley Trabue, a Nashville-based artist whose recent work includes figurative, abstract and expressionistic paintings.
Parks Realty, located at 415 Main St., will display the abstract paintings of Katie Neal.
Riverside Antiques, located at 144 Bridge St., will host Kara Davidson whose pieces are an exploration of color, texture and techniques that led her to personal growth as an artist.
The Purple Butterfly, located at 142 Second Ave. N., will feature Misty Westebbe, owner of New Day Photography. Misty's art scene show will feature a variety of landscapes from rural America to Greece, as well as still life subjects.
Twine Graphics and Screen Printing, located at 304 Public Square, will feature works by Audie Adams, who specializes in spray paint and latex acrylic, and grew up surrounded by street art.
Visitors Center, located at 400 Main St. #130, will host the winners of the City of Franklin photo contest, which highlighted beautiful images of Franklin in honor of preservation month in May.
Williamson County Archives, located at 611 W Main St., will feature works by Barbara Bullard who worked as a high school art instructor and now explores her own artistic endeavors with water color paints.
The Downtown Franklin Association invites lovers of the arts to stop by all participating locations during the evening's crawl. The Art Scene trolley is also available for free rides throughout the event, sponsored by Genesis of Cool Springs. For more information on the Franklin Art Scene, a full list of artists and a map of all featured locations, visit https://downtownfranklintn.com/the-franklin-art-scene/.