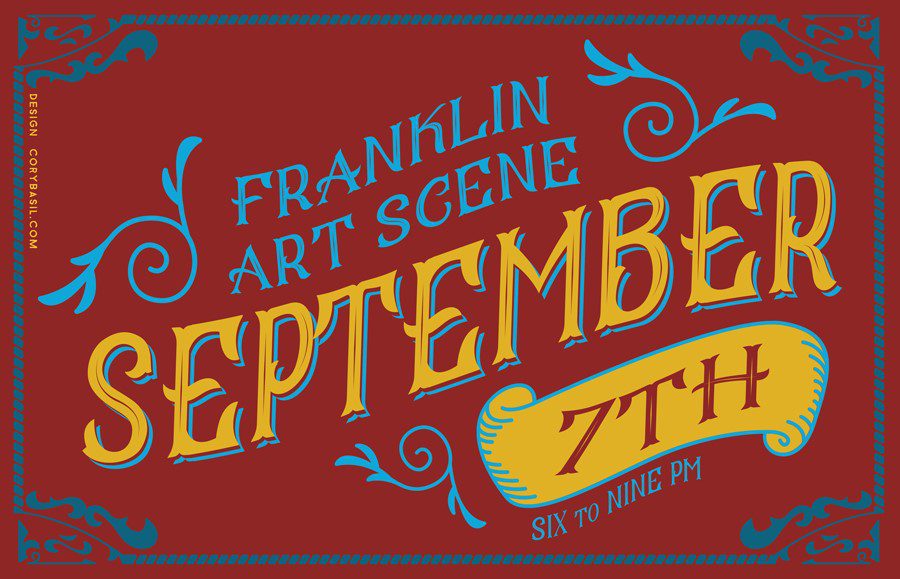 FRANKLIN, Tenn. – Franklin Art Scene returns on Friday, Sept. 7 and will feature unique sites in Historic Downtown Franklin. Rare Prints and Damico Frame & Art Gallery join forces to feature the winners of their second-annual Art & Photography Contest. The winning pieces will be on display at Rare Prints, and guests will be treated to refreshments and door prizes. The Franklin Art Scene is held on the first Friday of every month to highlight the local arts scene in Franklin.
Featured artists in the September Art Scene include:
Finnleys, located at 435 Main St., will host artist Hannah Croteau. Using bold representations in both fly tying and abstract painting, she leaves viewers with their own sense of connection to the paintings.
Franklin First United Methodist Church, located at 148 Fifth Ave. S., will feature potter Mike Ingram and acrylic artist Monica Smiley.
Gallery 202, located at 202 2nd Ave. S., will feature a group show of artists specializing in various mediums.
Hope Church, located at 137 Fourth Ave S., will host artist Dustine Roberts. Specializing in high-end portraits, it is her mission to create one-of-a-kind heirloom images that would stand the test of time, from nature to still life, to people.
Imaginebox Emporium, located at 311 N. Margin St., will showcase the original illustrations of Cory Basil for his young reader novel The Perils of Fishboy, as well as his other creations using mediums such as watercolor, oil and gauche.
Outdoor Classic Structures, located at 203 Second Ave. S., will feature the works of Tyler Blair, a 27-year-old Nashville native. He creates abstract paintings with a combination of sacred geometry and aboriginal art, resulting in a beautiful impact on the eyes.
Parks Realty, located at 415 Main St., will display the paintings of Bess Kearns, a local Franklin artist who specializes in oil and canvas. Kearns draws influence from a wide range of styles, including landscapes, florals and portraits.
Rare Prints, located at 420 Main St., will host a joint event with Damico Frame & Art Gallery to feature the winning artists of their second-annual Art & Photography contest in Franklin. Winners will be on display from categories including representation, abstract, digital art, photography and miscellaneous.
Tin Cottage, located at 334 Main St., will display the work of artist Kimberly Starr, founder of Scary Stuff Under My Bed. She believes that Halloween décor should have the same heirloom quality that is found in vintage Christmas décor and provides handcrafted Halloween décor for families to enjoy for years to come.
Twine Graphics and Screen Printing, located at 304 Public Square, will feature artists of Twine Graphics, whose goal is to showcase their love for screen printing in a fine art application. While printing shirts is the basis of their day-to-day business, Twine Graphics aims to make people aware of the craft of screen printing.
Williamson County Archives, located at 611 W Main St., will feature artist Hannah Goering. Her abstract paintings are a representation of the flow of mind and body, and her current works are focused on the process of experimentation and discovery through paint on a canvas.