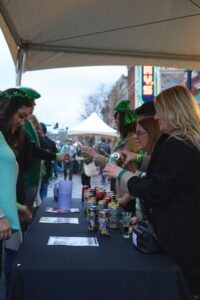 PURCHASE TICKETS TO MAIN STREET BREWFEST HERE!
With less than two weeks to go until Main Street Brewfest, excitement is definitely in the air here in downtown Franklin! The annual fundraiser for the Downtown Franklin Association marks its 12th appearance on Saturday, March 11 from 5 to 8 p.m! Check out our guide for everything you need to know about your favorite beer fest!
[The Beer]
Once again, Lipman Brothers is bringing a first-rate lineup of local, national and international beers to the pre-St. Paddy's Day party in downtown Franklin. More than 35 different breweries will offer a selection of over 80 craft beers in and around the Public Square from 5 p.m. to 8 p.m. For an exciting new addition this year, the event will showcase six homebrewers from Franklin, Nashville, Murfreesboro and Clarksville, who will be bringing their best brews.
Among the many breweries attending are local favorites Mantra Artisan Ales of Franklin, Tenn.; Asgard Brewing Company of Columbia, Tenn.; Mill Creek Brewery of Nolensville, Tenn.; Turtle Anarchy of Nashville, Tenn.; Granite City Brewery of Franklin, Tenn.; Cool Springs Brewery of Franklin, Tenn.; and international and national favorites Einstok Beer Company of Iceland; Hi-Wire of Asheville, N.C.; Against the Grain of Louisville, Ky.; Terrapin of Athens, Ga.; Lefthand Brewery, Longmont, Colo; Oskar Blues of Longmont, Colo.; Abita of Covington, La.; Napa Smith of Napa, Calif. Just to name a few!
CLICK HERE FOR A MAP OF BREWERIES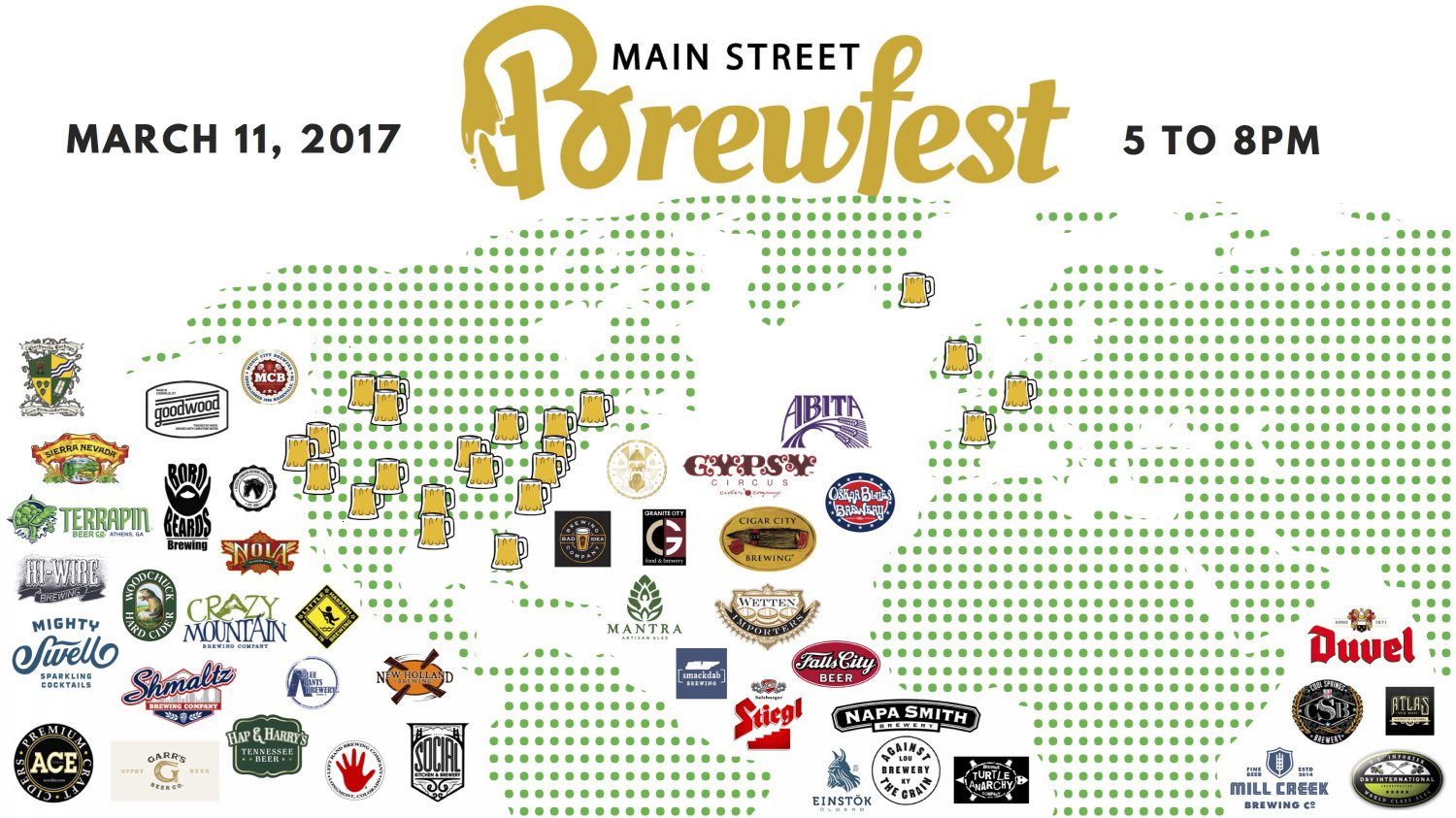 [The Food]
For quick eats, three local food trucks will be stationed at 3rd Ave. N. In addition to the food trucks, restaurants in the historic downtown district will be open, serving hungry festival goers. Main Street will be closed to vehicular traffic from 5 a.m. until festival clean-up, allowing beer lovers to walk to and from the 40 tasting stations throughout Downtown. 
[Entertainment]
In addition to plenty of Irish cheer, the Public Square will be rockin' all night long thanks to 60s and 70s tribute band, Boomerang. They will be performing classic rock hits and throwback favorites during the festival. Many shops along "America's Favorite Main Street" will remain open, allowing event goers a break in between beer tastings.
[Transportation]
In an effort to provide a safe and fun street party environment, we have partnered with Lyft to provide safe rides! The rideshare service will offer a 10 percent discount to existing users who use the code TAPHISTORY10 during Brewfest!
[Tickets]
It's not too late! General admission tickets are $55 in advance and $65 on the day-of at the ticket tent on the corner of 3rd Avenue South and the Public Square. Check in begins at 3:30 PM at City Hall, and tastings will start at 5 p.m. Please do not forget you will need your ID for check in! Tickets can be purchased online here. Although you must be 21 or over to purchase a ticket and enjoy beer tastings, guests may be in the Brewfest event area that are under the age of 21.
Get ready to "Tap into History," while sipping on delicious brews in Downtown Franklin! We can't wait to see you at Main Street Brewfest! Click here for more information on Brewfest.