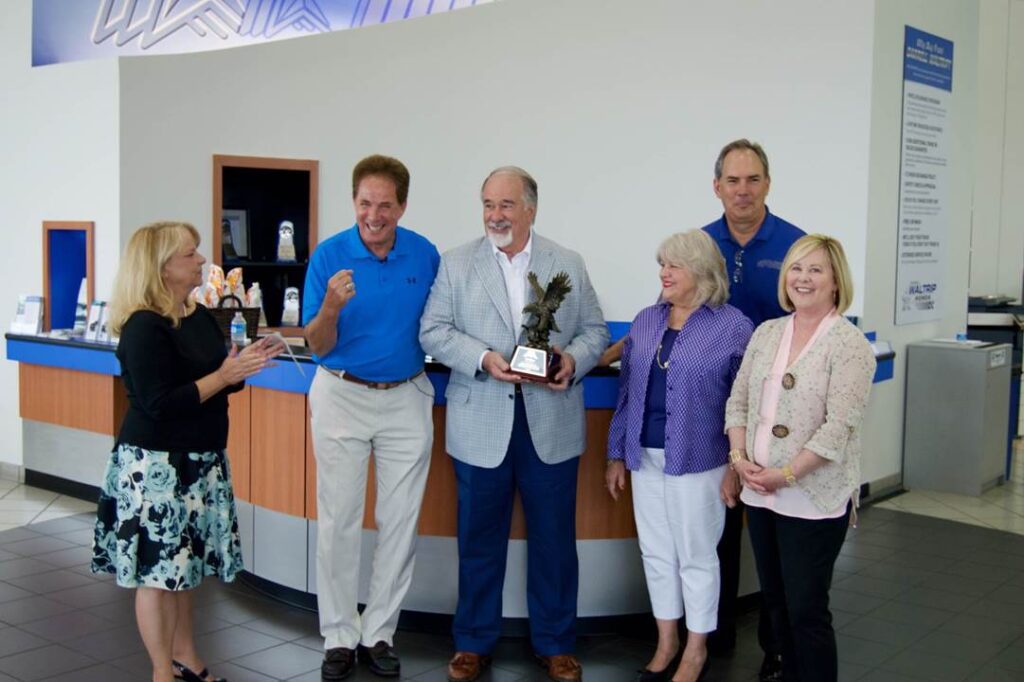 It's a known fact around town that Franklin's Downtown area hasn't always been so picturesque. The historic area had fallen into much disrepair and businesses were not thriving, that is until the early 1980's when locals like Ed Silva saw the potential and started to change all of that.
"Ed Silva provided extraordinary leadership in our journey to establish Franklin's Main Street as the heart of our community", said Mary Pearce, the Heritage Foundation's Executive Director. "His passion and enthusiasm for rescuing Franklin's boarded up Main Street has made this 30 year "overnight" success possible. When I need someone to represent the merits of historic preservation, I pick up the phone and call Ed Silva."
In honor of his work with the Downtown Franklin area as well as numerous other charities, Ed Silva has been named a Darrell Waltrip Automotive Group Hometown Hero.
Silva, originally from Boston, Massachusetts, has practiced law in Franklin for over 40 years. His law firm, located right in the heart of the Downtown Franklin area, has given him a front row seat to watch the transformation.
"The downtown Franklin area is the heart of this community and if it beats strong the rest of the community benefits from that," said Silva.
"Franklin is such a great place to live and work and is also an attraction for visitors because of its charm and history," said Marianne Schroer, a long time friend of Silva's and the current chair of the Battle of Franklin Trust's board of directors. "Thanks for that goes to people like Ed Silva who, early on, had the vision to see what Franklin had the potential to become. It has been a privilege to work with him on many projects over the years."
As a part of Mr. Silva's DWA Hometown Hero Award a $500 donation was made to the Downtown Franklin Association, a part of the Heritage Foundation of Franklin & Williamson County.
"Franklin wouldn't be what it is but for all the citizens who are players in the community along with our local government," said Silva. "It's awesome. It's kind of like what I told Darrell when he handed me the award, it's the Heisman Trophy of civic awards and I'm just delighted it happened."
Darrell Waltrip Automotive's Hometown Heroes is a monthly event honoring local heroes making a difference. To learn more or to nominate your hero visit www.DarrellWaltrip.com/hero.
About the Downtown Franklin Association
The DFA–and its members, made up of local business owners and merchants–has spearheaded the revitalization of Franklin's historic core since 1984. For more information about the DFA, visit downtownfranklintn.com.
About the Heritage Foundation
The Heritage Foundation exists to protect and preserve the architectural, geographic and cultural heritage of Franklin and Williamson County, and to promote the revitalization of Downtown Franklin in the context of historic preservation. In short, we save the places that matter in Williamson County, Tennessee. For more information or to join our cause visit historicfranklin.com.