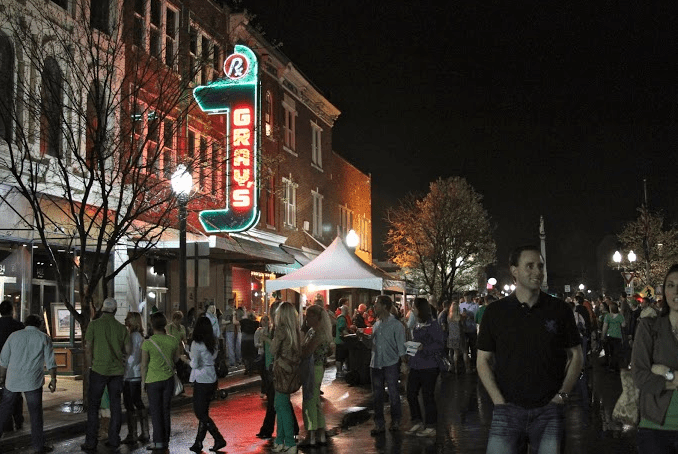 For more than a decade, the Downtown Franklin Association (DFA) has provided beer lovers a taste of some of the best local, national and international brands during its annual Main Street Brew Fest. On Saturday, March 14, the non-profit organization that helped spearhead the revitalization of Franklin's historic downtown core will once again offer 50-plus craft beers at dozens of tasting sites from 6 p.m. to 9 p.m., along with Celtic performers and plenty of Irish cheer.
Presented by Lipman Brothers, the popular event plans to showcase the latest product and shine a spotlight on Williamson County's microbrewery market. Puckett's Gro. & Restaurant returns as the major sponsor.
"This is a great kick off to spring each March, and a fun way to encourage participants to explore our retail district. Pedestrians may shop the local stores and are encouraged to eat at downtown restaurants such as McCreary's Irish Pub and Eatery," said Kristy Williams of the Downtown Franklin Association, a subsidiary of the Heritage Foundation of Franklin & Williamson County.
Main Street will be closed to vehicle traffic at 3 p.m., and the public is welcome – but only ticket-holders will be able to participate in the beer tasting. Many of the shops will extend their hours to remain open during the night event. In addition to the camaraderie and beer found on "America's Favorite Main Street," participants may also expect live music and food vendors along the avenues.
Tickets are $45 in advance, and are available online HERE. Williams said the event has sold out well in advance the past several years.
To encourage a better flow of traffic, ticket-holders will now check in at City Hall to get a site map, a description of the beers, and a tasting glass.
Attendees are encouraged to arrange safe rides to and from the Brew Fest. The Franklin Transit Authority is offering round-trip transportation to and from locations inside Franklin city limits for a $6 fee. To reserve a ride, call (615) 628-0263 or email twilighttodd@tmagroup.org. Williams said the trolley often sells out in advance, as well.
Those looking to extend their stay can find hotels available by visiting www.visitfranklin.com–but in order to take advantage of the trolley, the hotel must be within the Franklin city limits.
Franklin's Main Street Brew Fest is produced by the Downtown Franklin Association, a nationally certified Main Street Program of the National Trust and a division of the Heritage Foundation of Franklin and Williamson County. Proceeds from the event go to the continued revitalization and promotion of the historic district, which is on the National Register of Historic Places and designated by the National Trust as a Great American Main Street and a Preserve America community.