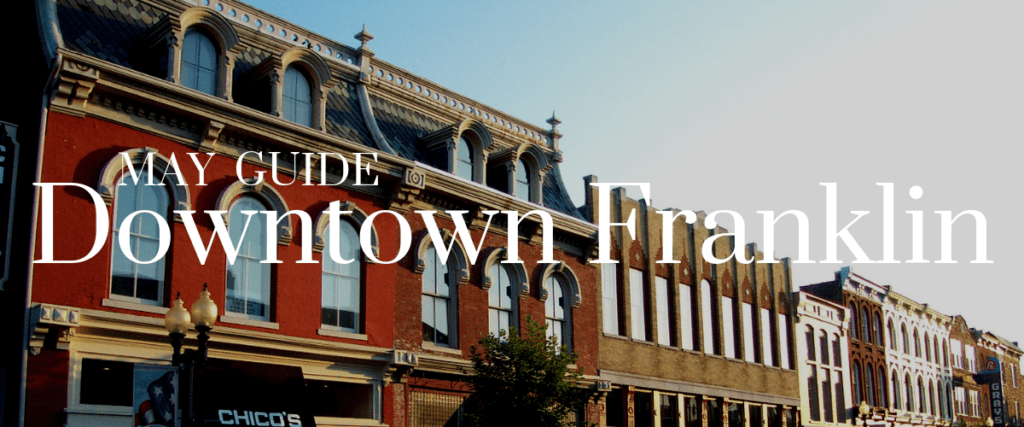 May is National Preservation Month, and we like to celebrate big.
Historic Downtown Franklin did not always look the way it looks today. In the 1970s, with the rising popularity of indoor shopping malls, town squares had become viewed as old-fashioned and outdated. Many property owners wouldn't or couldn't keep up with the maintenance of their 19th– and early 20th-century buildings, and they often resorted to shortcuts to keep them habitable.
In addition to the county courthouse and related legal and professional offices, our Main Street was home to an assortment of shops, a car dealership, bars and pool halls.
Because of the efforts of some determined residents and business owners in the early 1980s, the Downtown Franklin Association was born. This merchants' association served as a clearinghouse to help property owners navigate the process of restoring their now-historic buildings and reinvigorating Franklin's downtown area.
The DFA is an accredited member of Main Street America, which is an independent subsidiary of the National Trust for Historic Preservation. For Preservation Month, the National Trust has launched "This Place Matters," a campaign to recognize the places that matter and make our community unique.
At the DFA, we recognize and celebrate the progress Historic Downtown Franklin has made in preserving and protecting our places that matter. We understand that the businesses that make up our organization could be located most anywhere, but they chose downtown Franklin because of its uniqueness.
The Heritage Foundation and its Downtown Franklin Association have planned many events in May to celebrate Preservation Month, including Shop Local Week May 6-10. In the words of the National Trust, we hope to encourage and inspire an ongoing dialogue about the importance of place and preservation in all of our lives.
The Registry– 347 South Main Street

The month of May will be a Juliska gift-with-purchase event. If a customer spends $200 on Juliska merchandise, they will receive 4 acrylic Isabella tumblers and an acrylic Isabella pitcher. If they spend $350 on Juliska merchandise, they receive a Berry and Thread white melamine tray, an acrylic Isabella berry bowl as well as the tumblers and pitcher.

Kelly Spalding Design– 915 Columbia Avenue

Kelly Spalding Design is having their 8th anniversary party on Thursday, May 9th from 4:00 p.m. – 8:00 p.m. Receive 15% off the entire shop (excludes local art). There will be food, cocktails, door prizes and gift with purchase of $50 or more. The first 25 people in the door receive a goody bag, retail value $75. They will also offer 15% off any one item Tuesday, Wednesday & Friday if you mention Shop Local at checkout.

Twine – 304 Public Square

During Shop Local Week Twine will be offering 10% off all retail bought in store. Check out one of their newest exclusive Twine Graphics designs, The Tristar with Flowers.

Walton's Antique and Estate Jewelry – 410 Main Street

Walton's Jewelry is offering 10% off to any customers who mention Shop Local Week when they come in to purchase.

Aubree P. Boutique – 117 3rd Avenue North

Aubree P. Boutique is offering 15% off all apparel and accessories (excludes jewelry) during Shop Local Week.

John Green Insurance– 118 4th Avenue North

John Green Insurance will give a $50 donation to the Heritage Foundation on behalf of anyone who allows John Green Insurance to provide a coverage review of their home or business insurance policy. Absolutely no obligation or purchase is required.
Other participating businesses include:
Our Thrift Store – 1018 Columbia Avenue
Craft Love – 107 Confederate Drive
Savory Spice Shop – 324 Main Street
The Cellar on Main – 344 Main Street
Yarrow Acres – 424 Main Street
The Juice Bar – 232 5th Avenue North
Gray's on Main – 332 Main Street
O Be Joyful – 328 Main Street
Winchester Antique Mall – 121 2nd Avenue North
Rock Paper Scissors – 317 Main Street
Riverside Antiques – 144 Bridge Street
Gin-O – 118 4th Avenue South
Gallery 202 – 202 2n Avenue South
Carnton/Battle of Franklin Trust – 1345 Eastern Flank Circle
Carter House – 1140 Columbia Avenue
Puckett's Boat House 94 East Main
Puckett's 120 4th Avenue South