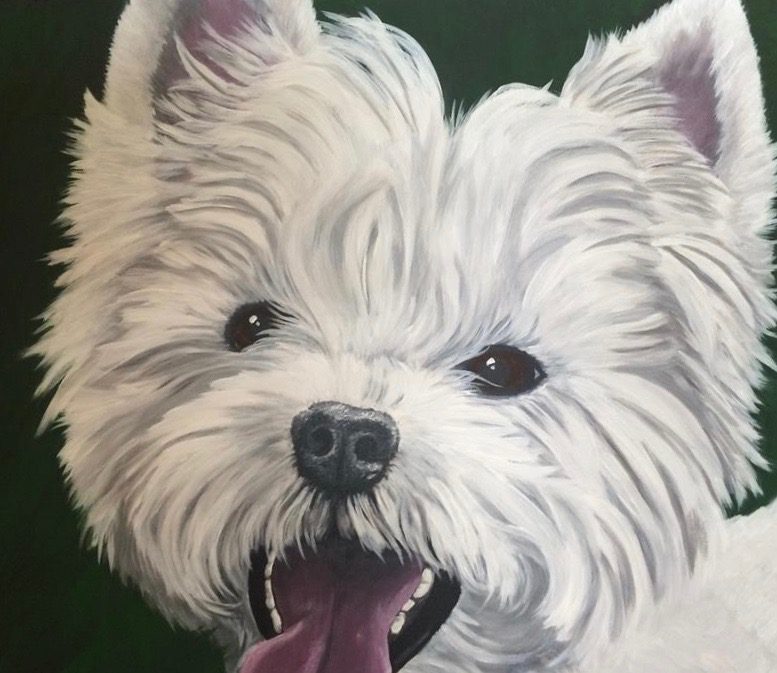 The Franklin Art Scene returns to kick off the fall season on Friday, October 7.  Guests will enjoy much-anticipated cooler temperatures, while strolling through Historic Downtown Franklin for the free monthly art crawl.
In addition to viewing local works of art, attendees can help support their furry friends. A series of 12 paintings, featuring a variety of pups, created by artist Susan Frizsell will be sold to benefit the Agape Animal Rescue. This program provides loving, emotionally stable, and nurturing foster care for animals. Frizsell's paintings will be available for purchase at The Registry at 347 Main St.
Another highlight for the October crawl will be Frank the Car, a colorful car painted by students at Firstlight Arts Academy. It will be displayed during the event on its final night of auction at Gallery 202 at at 202 2nd Ave S. All proceeds from the auction will go to Franktown Open Hearts, a faith-based nonprofit that provides mentoring, tutoring, recreation and a hot meal to Franklin's inner-city youth.
Coordinated by the Downtown Franklin Association (DFA), approximately 30 locations in and around downtown will host local artists from 6-9 p.m. Many sites will also offer refreshments, drinks and live music. Featured locations and artists include:
The works of Dolly Georgieva-Gode will be on display at boutique MMM, located at 238 Public Square. Originally from Bulgaria, she is a traditional artist who enjoys experimenting with different media and artists styles.
In addition to Frank the Car, painter Julie Harvey will be  featured at Gallery 202. Her work, characteristically bold and full of texture, portrays abstracted forms, generated from a place without boundaries, where reality often ends, and dreams begin. Chapman's Pie Wagon will be on site to provide delicious eats.
Artist Janel Maher's bronzes and paintings can be found at Harlin Meyerhoff at 400 Main Street, Suite 120. Her work captures the heart, soul and essence of the horse. Maher was the winner of the prestigious Marilyn Newmark Memorial Award for realism at the American Women Artists 25th Annual Juried Show.  She was also awarded the President's Award at the Women Artists of the West Annual Show.
The Historic Franklin Presbyterian Church, located at 435 Main St, Franklin will host three artists. Caroline Thompson's passion for art and creativity is clearly seen in her paintings, which feature bold, dramatic hues and designs. The whimsical, offbeat paintings of Lisa Eisenga are inspired by fanciful and macabre poetry, music and literature. Artist and photographer Laura Neal is inspired by color, texture, movement and lines, which is clearly reflected in her work, often featuring urban areas, beautiful colors and many different textures.
The work of Alyson Cannon will be featured at Hope Church at 137 4th Ave S. Cannon's paintings are inspired by the  Smoky Mountains of East Tennessee. She often sees the mountains, old churches and schoolhouses of her childhood home in the layers that dance through her paintings, adding richness of color and texture. She uses this texture to add depth and character to her paintings.
Imaginebox Emporium, located at  311 North Margin Street, will be featuring the original illustrations created by Cory Basil for his young reader novel The Perils of Fishboy. Basil's creations are painted using multiple mediums, including watercolor, oil, and gauche.
Parks Reality at 415 Main Street will feature the woodwork and furniture designs of Doug Regen. He left the advertising business to pursue his dream of creating furniture, which can be seen in many homes throughout the South, from recycled materials.
Contemporary artist Emily Venturino's paintings will be housed at the Visitor Center, located at 400 Main Street. In her work Venturiono attempts to create everyday scenes and add a touch of dream-like characteristics that mirror her desire to inspire the viewer, in hopes that they may find some sense of serenity and peace.
The Williamson County Archives at 611 W Main St. will feature artist and Franklin resident Bob Musgrove. In addition to his paintings, his unique Power Bike prototype– built using  his creative art skills in conjunction with a mechanical engineering degree– will be on display.
Winchester Antiques will showcase the works of Helen Curnutte and Jack Ericson at 121 2nd Ave N. Curnutte is a Nashville-based artists, who works both with copper and paint. Ericson repurposes and builds custom furniture and accessories from reclaimed architectural salvage.
For more information about the event, please visit www.franklinartscene.com or the Facebook page at www.facebook.com/FranklinArtScene.com.