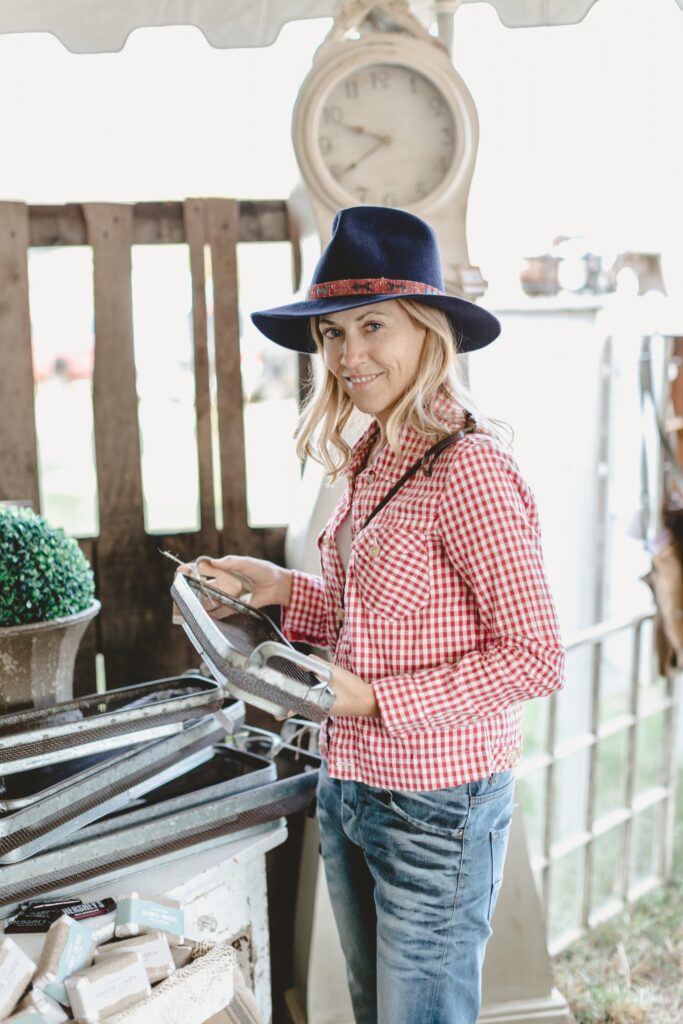 Those who have ever wanted to own a piece of rockstar royalty in their home will have the chance at the City Farmhouse Holiday Pop-up Fair next month at Jameson Hall at The Factory at Franklin!
City Farmhouse announced today that Sheryl Crow will be a featured guest vendor at the seasonal market, happening November 13 through November 15. This is a first for the Grammy-winning artist, who will donate all of her City Farmhouse Holiday Pop-up sales to the World Food Program U.S.A.
Sheryl Crow will offer a range of goods from her personal stash to shoppers over the three-day event, selling everything from antique and vintage home decor pieces she has personally collected over the years to clothing and other items.
First dibs on shopping Sheryl Crow's collection will take place during the market's Preview Party on Friday, Nov. 13, from 5-9 p.m. The $40 ticket offers four hours of early buying, plus complimentary wine, beer and a holiday Chex Mix bar. It also includes a live performance by Nashville's own Jamie Higdon.
In addition to selling her wares, Sheryl Crow will also personally host an autograph session at select times during the special event. The musician will be on-site to meet guests during Friday's Preview Party from 6 p.m. to 7 p.m., and again on Saturday from 11 a.m. to 12 p.m.
A limited number of Friday's Preview Party tickets–which grant admission throughout the weekend–may be purchased in advance at www.cityfarmhousefranklin.com, at City Farmhouse's brick-and-mortar shop in The Factory,  or by phone at 615-268-0216.
General admission tickets for Saturday and Sunday are $10 and can be purchased at the door of Jameson Hall, each day.
Kim Leggett, owner of the City Farmhouse store and coordinator of the Pop-up Fairs, says Crow first approached her with the idea.
"Everyone has things they accumulate, and need to purge. Sheryl wanted to give back to an organization she loves dearly, and had the brilliant idea to do that through the City Farmhouse Pop-up Fair," Leggett said.  "Sheryl has shopped with us for years. She's very hands-on with designing her spaces and selects everything in her home. You could say she's a fellow picker who loves the thrill of the hunt."
The City Farmhouse Holiday Pop-up Fair, to be held in Jameson Hall at The Factory at Franklin, is hosting 35 hand-selected vendors–including several past Pop-up Fair favorites–who will bring antique and vintage goods. In keeping with the spirit of the season, the November event will also offer a range of timely gift items for shoppers, including upcycled clothing, handcrafted jewelry, handmade art, and repurposed pieces. Plus, some vendors will sell fresh holiday greens, garlands and wreaths for decorating.
The City Farmhouse Holiday Pop-up Fair kicks off on Friday, Nov. 13 with the early-buying Preview Party from 5 p.m. to 9 p.m.
General admission is on Saturday, Nov. 14, from 8 a.m. to 6 p.m., and 11 a.m. to 4 p.m. on Sunday, Nov. 15.
To purchase tickets, see a complete vendor list, or learn more, go to the City Farmhouse website at www.cityfarmhousefranklin.com.
More about World Food Program U.S.A.
World Food Program USA (WFP USA) works to solve global hunger, building a world where everyone has the food and nutrition needed to lead healthy, productive lives.
The United Nations World Food Programme (WFP) is the world's largest humanitarian agency fighting hunger worldwide, reaching more than 97 million people in 80 countries with food assistance last year. World Food Program USA builds support for WFP through fundraising, advocacy and education in the United States.
More about City Farmhouse
City Farmhouse is a popular antiques and vintage shop located at The Factory at Franklin in Historic Downtown Franklin, Tenn., that offers modern farmhouse style for urban and rural living.
Owners Kim and David Leggett have been "pickers" for more than 20 years, and their trained eye and vivacious personalities have earned them national acclaim, from individuals interested in following popular vintage trends to interior designers.
In addition to curating the store and the City Farmhouse Pop-up Fairs, the Leggetts also exhibit at major vintage and antique events throughout the U.S. Kim is a sought-after expert for guest appearances and as a host of guided tours at fairs around the country, appearing in shows the likes of Marburger Farms, the Country Living Fair, The Nashville Shows, and more.
As a freelance interior stylist, Kim's projects have been featured in a host of major publications, from Elle Décor and Architectural Digest to Romantic Country Magazine. She also sells her finds to museums, private collectors and celebrity clientele like Ralph Lauren, Meg Ryan, Tommy Hilfiger, Sheryl Crow, Carrie Underwood and more.
The Leggetts' recently crossed a social media milestone, amassing more than 110,000 Facebook fans. Follow them at www.facebook.com/cityfarmhousetn.com.