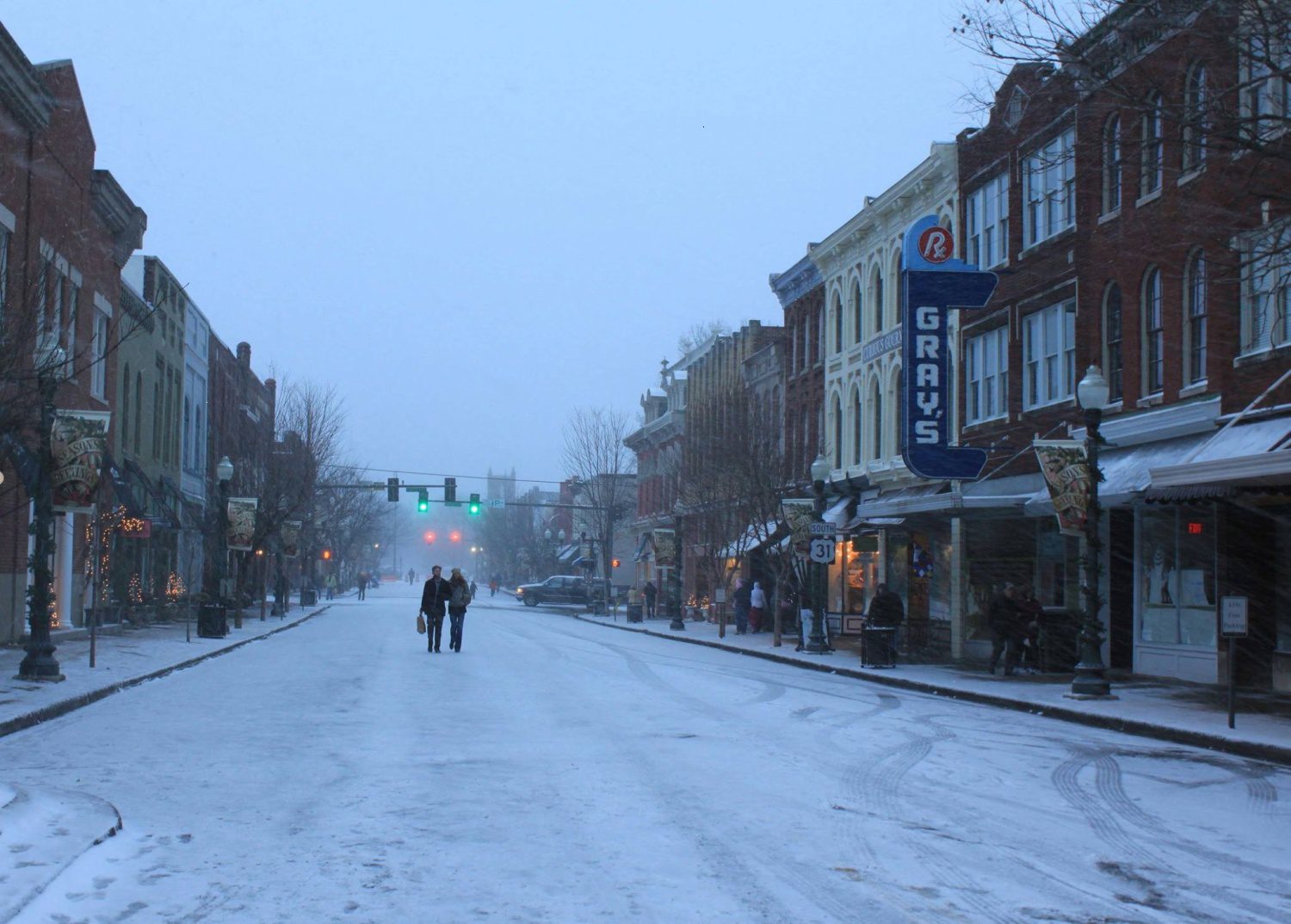 With all the snow and frigid temperatures, winter certainly made quite the entrance here in Franklin! Don't let the chilly weather keep you down, though! We've compiled a list of all the best things #DowntownFranklin has to offer to keep you warm–from the top places to get cozy to the most delicious soups!
Best place to purchase your cold weather gear: Head over to Bink's Outfitters for everything you need to endure the winter weather. A few of our favorites include cozy UGG boots, fuzzy Patagonia pullovers and durable North Face jackets!
Best place to cozy up with a good book: With shelves stocked from top to bottom with books and plenty of cozy spots available, we can't think of anywhere better than Landmark Booksellers to spend a cold winter day!
Best bowl of soup: Sometimes you just need to warm up from the inside out with a bowl of hearty soup. Both Merridee's and Franklin Mercantile offer a wide variety that will sustain you all winter long!
Best place to heat up: Opening soon, Iron Tribe Fitness will warm you up fast! Thanks to their classes, which feature a variety of cardio and weight training, you'll be ready for swimsuit season in no time!
Best cold weather cocktail: For those of you who are 21+, you'll definitely feel warm and toasty after a cocktail from Gray's On Main! Their crafted seasonal cocktails contain everything from brandy to amaretto and whiskey, of course.
Best place to get a hot drink: If you're opting for something a little more mild, Starbucks and Frothy Monkey have plenty of options to go around. We're big fans of the Smoked Butterscotch Latte from Starbucks and the classic hot chocolate from Frothy Monkey!
Best hearty meal: When the weather is bleak, sometimes all you crave is a warm, hearty meal. We love Zolo's made from scratch spaghetti! However, you can't go wrong with a steak from Cork & Cow, skillet mac from Puckett's Gro. or shrimp and grits from Red Pony (on the menu for Nashville Restaurant Week, coming up Jan.16-22!).
Best place to find a cozy sweater: It can be a challenge to stay warm while still looking stylish. Thanks to Imago Dei and heylee b., you can do both! We always fall in love with a sweater or two (or three!) each time we go in either store!
Best place to beat the sniffles: It's easy to pick up a cold during the winter months. If you're feeling a little stopped up, head to the Juice Bar ASAP! Their Sniffle Stopper shot will knock it out fast!
These are just a few of the fabulous shops and restaurants along America's Favorite Main Street— there are even more around every street corner! Don't let the cold temperatures keep you off Main Street. Get out there and let us know your favorite cold weather finds!