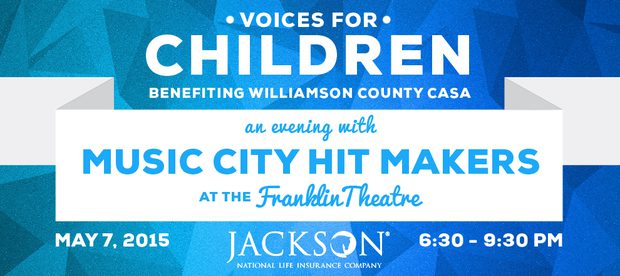 Williamson County CASA (Court Appointed Special Advocates) is hosting its 4th Annual "Voices for Children" fundraiser, presented by Jackson, at the Franklin Theatre on Thursday, May 7. The evening will benefit the local non-profit and its mission to protect abused and neglected children within the county's court system.
Grammy-winning songwriter Brett James–and a host of his acclaimed musical friends–will take the stage with the Nashville Studio Symphony for a one-of-a-kind musical event dubbed "Music City Hit-Makers: Where Song Meets Symphony" that promises to pull out all the stops at the 300-seat venue in Historic Downtown Franklin.
WCCASA Executive Director Marianne Schroer says that the night helps to punctuate the mission of the non-profit, and raise awareness of its advocates' work.
"Each year, Voices' underscores the heart of our mission, and gives recognition to those who are making a difference in the lives of abused and neglected children within this community," said Schroer. "Every ticket sold will directly impact the CASA vision to provide each child that we serve with a stable and permanent home.
"By attending this event, you're not only providing funds to support our CASA volunteers as they serve these children–you're also helping break the cycle of abuse and neglect within Williamson County families."
Voices guests will kick off the night with a cocktail hour that includes hors d'oeuvres compliments of MStreet Nashville–the group that provides some of Nashville's most beloved dining spots, like Kayne Prime and Virago- and wine, compliments of Harvest Beverage Company.
The evening will host a live auction with prizes that include an exotic getaway to a tropical island, a Keith Urban-signed guitar from the Urban Guitar Collection, and a landscaping and hardscaping package from Outdoor Classic Structures. Guests socializing prior to the main event will want to enter a unique silent auction which offers $100 guitar picks, which represent prizes whose value ranges from $100 to $1,000.
The proceeding performance featuring the Music City Hit-Makers will lend a unique aspect to the evening that is "so Nashville," with the featured artists sharing the stories behind some of the biggest hits they've penned. James is the 2014 Music Row Magazine Songwriter of the Year, a Grammy award-winner and two-time ASCAP Songwriter of the Year—an elite among Nashville's storied songwriting traditions—and will lead the night's performance with fellow award-winning artists, yet to be announced.
James has seen his songs recorded by everyone from Jon Bon Jovi and Chicago to Jason Aldean and Martina McBride, and the performer has scored 20 Billboard #1 country songs over the past decade, including Dierks Bentley's "I Hold On;" Jason Aldean's "The Truth;" and Kenny Chesney's "When The Sun Goes Down," "Out Last Night," and Carrie Underwood's most recent number-one hit, "Something In The Water."
Charles Judge, ACM Keyboard/Piano Player of the Year, will arrange the performance and lead the Nashville Studio Symphony, with some of Middle Tennessee's best studio musicians.
"Voices for Children" is Williamson County CASA's biggest fundraiser of the year, and all proceeds from the night go towards its mission. Past events have included performances by Kix Brooks and Wynonna Judd. The Music City Hit-Makers' performance in 2014 raised $100K in sponsorships, ticket sales and silent auction proceeds.
WCCASA has broken its "Voices" fundraising records, year over year. Schroer says the non-profit has set a goal of $115,000 for this year's event, which will allow WCCASA to serve 115 additional children during the upcoming fiscal year.
Tickets for the concert go on sale April 2, and are $125 per general admission ticket. Tickets may be purchased online at www.franklintheatre.com, at the theatre box office or by calling 615-538-2076.
Last year, $94,000 of the $100,000 raised went straight to CASA program support—a 40 percent increase from the previous year, which organizers say was due in large part to the generosity of its 2014 sponsors and the talent of the Music City Hit-Makers.
Jackson is the presenting sponsor for the 2015 evening. Additional sponsors include CLARCOR, Coyne Oral Surgery, Jim and Cheryl Sanders, Neal & Harwell, PLC, Daugherty, Haas & Associates, PLLC, EDGE, First Bank, C.B. Ragland, PwC, Barlow Builders, and First Farmers. For sponsorship opportunities or to make a donation please contact the WCCASA Director of Development and Public Relations Danielle McMorran at danielle@williamsoncountycasa.org or 615-591-2699 x2.
Williamson County CASA is an organization that advocates for the best interests of children in the judicial system, and works with volunteers to provide a permanent home for each child. The non-profit independently trains its volunteer members to investigate each situation, and report findings to the court.
Just last month, WCCASA added a new member to its staff: Rocklin, a highly trained assistance dog that provides emotional support by working with CASA children in difficult settings, like a courtroom.
For more information about Williamson County CASA and its mission, go to www.williamsoncountycasa.org.