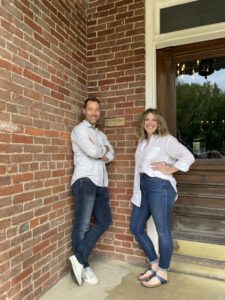 Owners, Andrew and Ashley Kilpatrick announce the October 9th, 2021 grand opening of the SAINT GOOSE wine shop and whiskey experience set in the newly restored historic home located at 134 2nd Avenue North in downtown Franklin, Tennessee.
A joint venture with Co-founder Kate Ham, Saint Goose will offer a uniquely curated selection of wines from all over the world in addition to classes, tastings and culinary wine pairing events to serve the growing wine and culinary lifestyle of Franklin, TN and it's neighboring communities.
Kate Ham, a Sommelier from the International Culinary Center in New York City, is "excited to bring my knowledge and our combined experience to create community wine experiences in downtown Franklin."
The Saint Goose mission is to elevate the local selection of wines with deeply personalized curations. "I have a profound respect and deep love for the classic expressions of the old world and new. Yet, I have immense excitement for new winemakers with different points of view," said Kate.
For (Owners and Co-founders) Andrew and Ashley Kilpatrick, Saint Goose is a return to a love affair which began in Napa Valley, CA. Andrew, an investment manager at Markham Capital Partners, joined with Kate to create a uniquely experiential location from which "to bring world class wines and spirits to the people we love to share them with."
"We are a wine shop with a comfy, lounge-style whiskey experience set inside a home on 2nd Avenue in downtown Franklin. We're also an eclectic gift shop and an event place," said Andrew, "And, we're excited to set Saint Goose well within the American Whiskey Trail. We'd like to be a welcoming home for wine lovers and whiskey enthusiasts in Franklin, neighboring communities and beyond."
Saint Goose will open its doors seven days a week with operating hours of 11am to 8pm Monday through Saturday and 12 to 5pm on Sunday.
ABOUT SAINT GOOSE: Saint Goose is a curated wine shop with an inviting whiskey and cigar experience set in a historic home at 134 2nd Street in the heart of Franklin, TN. With world-class flavors, vintages, classes and wine tastings, curated by Sommelier Kate Ham, Saint Goose serves as the experiential home for wine enthusiasts at every level of the wine appreciation journey. Founded by Andrew Kilpatrick and Kate Ham in 2021, Saint Goose is the local destination for the most optimal selection of world-class wines in Franklin, Westwood, Nashville and beyond.
Saint Goose: 134 2nd Avenue North, Franklin, Tennessee | Tel: (615) 468-7935 | Web: saintgoose.wine | Instagram: @saintgoose.wine