C.A.U.S.E. Fest 2023
June 3 @ 11:00 am

-

June 4 @ 5:00 pm

$149.95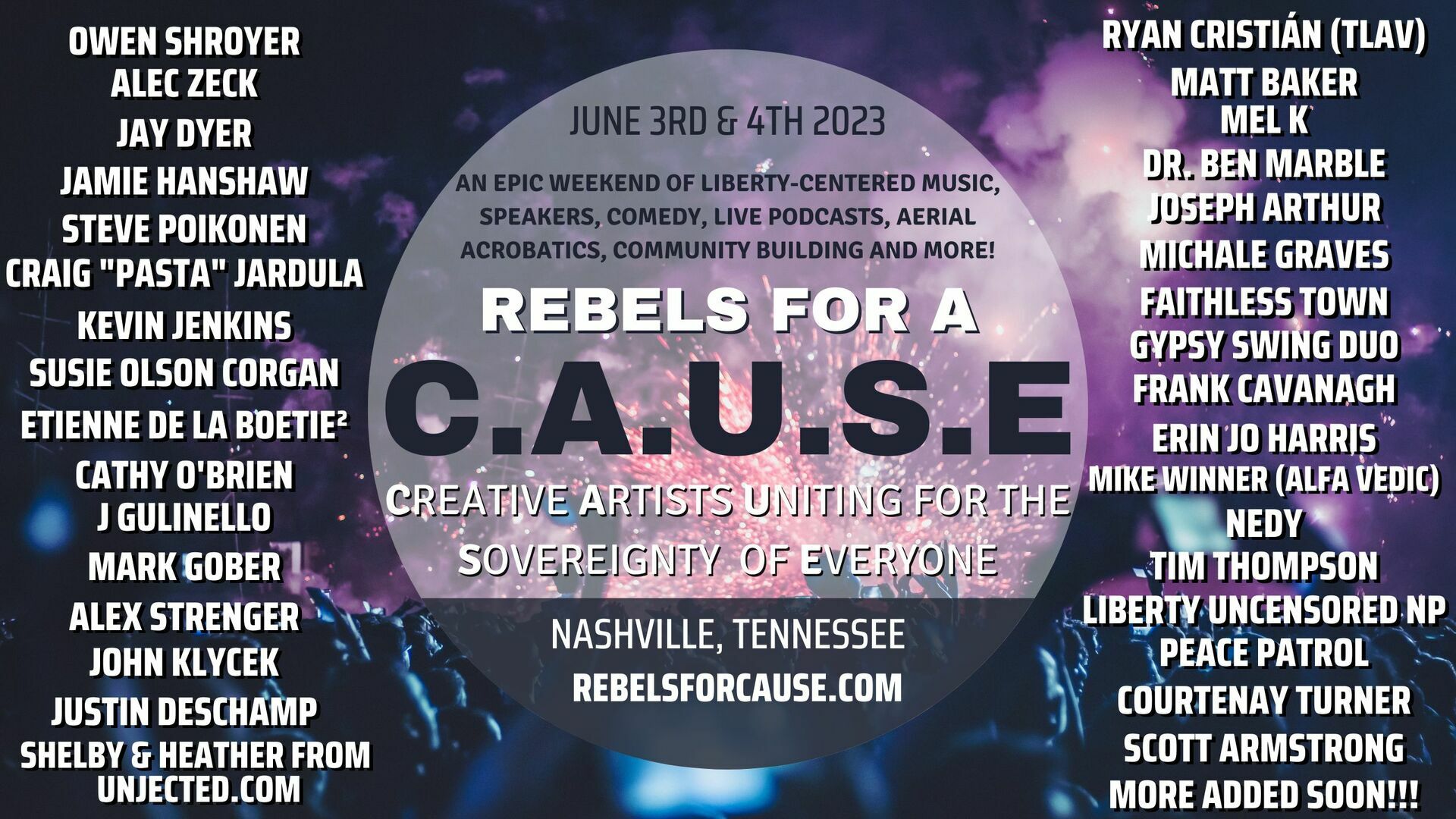 Join us in the Nashville area and be a part of CAUSE Fest 2023!
The Freedom Unity Network presents Creative Artists Uniting (for the) Sovereignty (of) Everyone.
Many of you are aware of the culture creation and social engineering that has been done via the arts. It's time we celebrate the creativity and beauty of humanity with art that is pro-humanity, takes ownership of free will, personal sovereignty and personal agency and is celebrated in person with other freedom minded souls!
TPTB want to create an atomized, transhuman leading to post-human world controlled by an AI hive/borg mind that has humans siloed in the Metaverse programmed by them! The best antidote to their plans is to be radically human!
​
Join us to honor Art, Humanity and Liberty for all!
URLs:
Tickets: https://go.evvnt.com/1700340-2?pid=10487
Twitter: https://go.evvnt.com/1700340-3?pid=10487
Instagram: https://go.evvnt.com/1700340-4?pid=10487
Artists: Owen Shroyer, Alec Zeck, Jay Dyer, Mike Winner, Frank Cavanaugh, Jamie Hanshaw, Ryan Cristian, Courtenay Turner, Mel K, Faithless Town, Joseph Arthur, Justin Deschamps, Matt Baker, Nick Nittoli, Erin Jo Harris, Cathy O'Brien, Dr. Ben Marble, Anna Khait, Susie Olson Corgan, Tim Thompson, Kevin Jenkins, Alex Strenger, Eric Hollerbach, Steve Poikonen, Craig "Pasta" Jardula, Michale Graves, Gypsy Swing Duo, Mark Gober, John Klycek, Ben Delaurentis, Mike "Funky Fathers" Mattingly, Jeremy "JSlay" Slayden, Cory Haag, Kenny Palurintano, J Gulinello, Etienne De La Boetie 2, Peace Patrol, Klaus Schwab Jr, Matt Prest, Ben Joseph Stewart, Simon Esler, And Surprise Guests!